Hamamatsu is easily accessible from Tokyo and Nagoya by shinkansen. The city is full of wonderful places to visit – from the splendid Hamamatsu Flower Park to the Hamamatsu Museum of Musical Instruments. Learn how to enjoy your time in Hamamatsu and savor specialties like eel and gyoza!
Hamamatsu: A City of Musical Instruments, History, and Gyoza
Hamamatsu is a major city in Shizuoka Prefecture that is accessible by Shinkansen (bullet train) from Tokyo and Nagoya. Once you've arrived, venture out to sightseeing attractions by train or bus!
Reserving a rental car is also a great option for those who prefer to travel at their own pace.
Hamamatsu is home to many places connected to nature, history, music, and technology. Be sure not to miss out on local specialties like Hamamatsu gyoza (potstickers)!
We'll introduce a two-day sightseeing guide around Hamamatsu, the city of musical instruments and pan-fried dumplings.
Access to Hamamatsu from Tokyo and Nagoya
Here are the details on travel to Hamamatsu from Tokyo or Nagoya.
From Tokyo
The Tokaido Shinkansen line connects Tokyo Station and Shinagawa Station to Hamamatsu Station. Fares are the same regardless of the station you board from. The shortest travel time is about 1 hour and 24 minutes.
| | | |
| --- | --- | --- |
| From Tokyo | Adults | Children |
| Regular Seat | 7,910 yen | 3,950 yen |
| Reserved Seat | 8,240 yen | 4,120 yen |
| Green Car (First-Class Seat) | 12,100 yen | 12,100 yen |
From Nagoya
Hamamatsu Station is also accessible from Nagoya on the Tokaido Shinkansen. The minimum travel time is 30 minutes.
| | | |
| --- | --- | --- |
| From Nagoya | Adults | Children |
| Regular Seat | 4,510 yen | 2,250 yen |
| Reserved Seat | 5,040 yen | 2,520 yen |
| Green Car (First-Class Seat) | 7,310 yen | 7,310 yen |

*An adult is a person 12 years of age or older.
*A child is a person between the ages of 6 to 11. (*Elementary school students will be charged a child fare even if they are 12 years old.)
*Fares for reserved seats and the first-class "Green Car" will slightly increase during peak seasons.
*The shinkansen can be ridden without any extra fees using the JAPAN RAIL PASS.
*The regular JAPAN RAIL PASS cannot be used to board the Green Cars.

Day One: Sightseeing Around the Lake Hamana Area
On your first day in Hamamatsu, we suggest sightseeing around the Lake Hamana area. Leave your luggage at the hotel when you arrive in Hamamatsu.
Return to Hamamatsu Station and take the Route 30 bus bound for "Kanzanji Onsen" at Bus Terminal Platform 1. To return home, you'll be taking the same bus route.
View Lovely Flowers at Hamamatsu Flower Park
Our first destination is Hamamatsu Flower Park.
Disembark at the Flower Park bus stop. It takes about 40 minutes to reach from Hamamatsu Station and the fare costs 570 yen.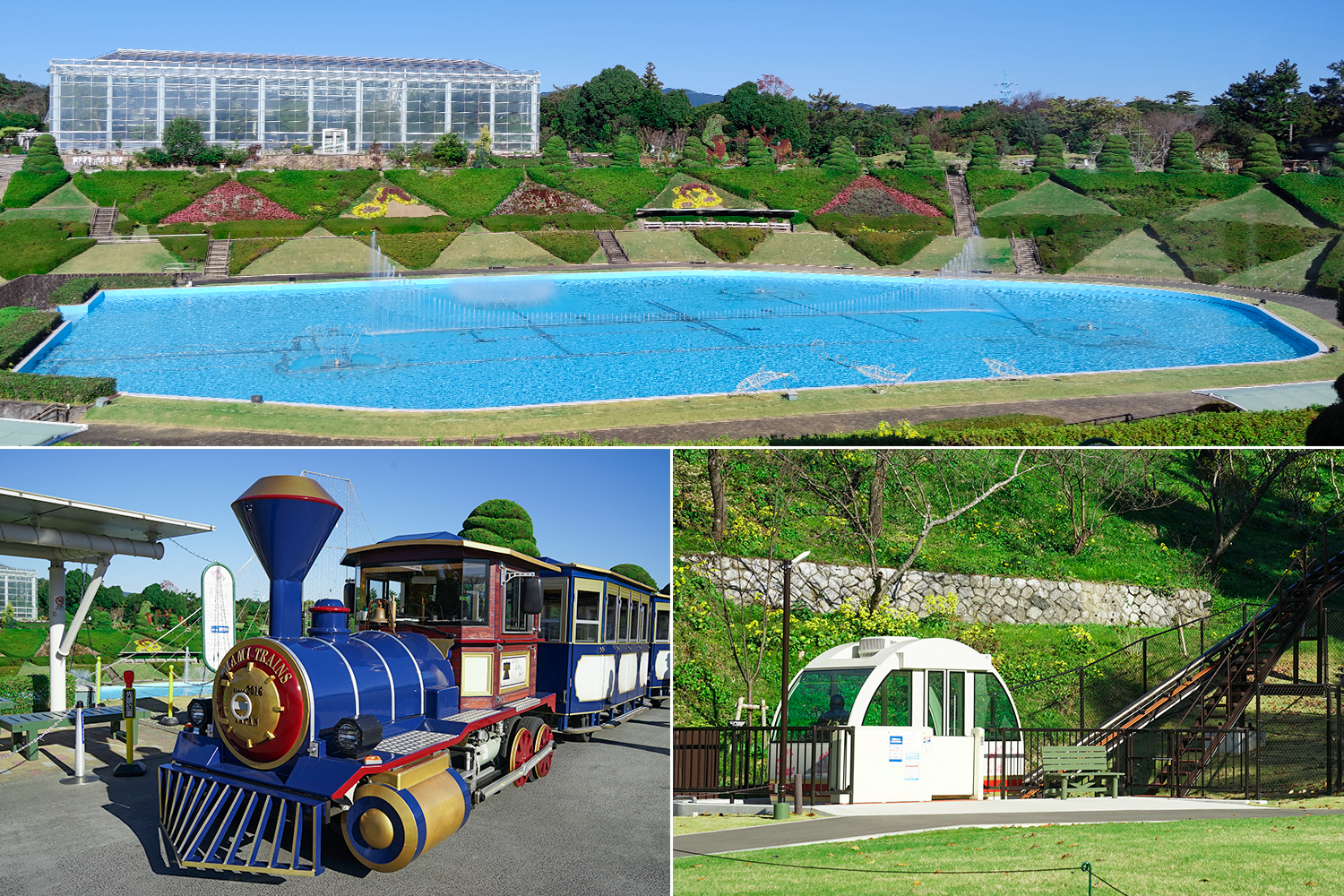 Hamamatsu Flower Park is a botanical garden located on the border of Lake Hamana. The park has over 3,000 varieties of plants and flowers, allowing visitors to enjoy flora year-round.
A large pond can be found in front of the Crystal Palace, which is a large greenhouse within the park. Every half hour, a fountain show takes place in the pond!
Taking a relaxing stroll while admiring the flowers is a wonderful way to enjoy the scenery. We also recommend boarding the Flower Train for a guided tour around the premises.
Many of the flowers in the park are in full bloom between mid-March and mid-June. This period coincides with the Lake Hamana Flower Festa held annually at the Flower Park.
Cherry blossoms and colorful tulips are the main attraction from late March to mid-April. Visitors can also enjoy the illuminated night blossoms every evening.
Wisteria flowers bloom from late April until early May. It's quite stunning to see a 150-meter-long wisteria trellis covered with purple flowers!
During the Flower Festa, visitors can enjoy the peak season for plum blossoms, roses, irises, azaleas, and hydrangeas.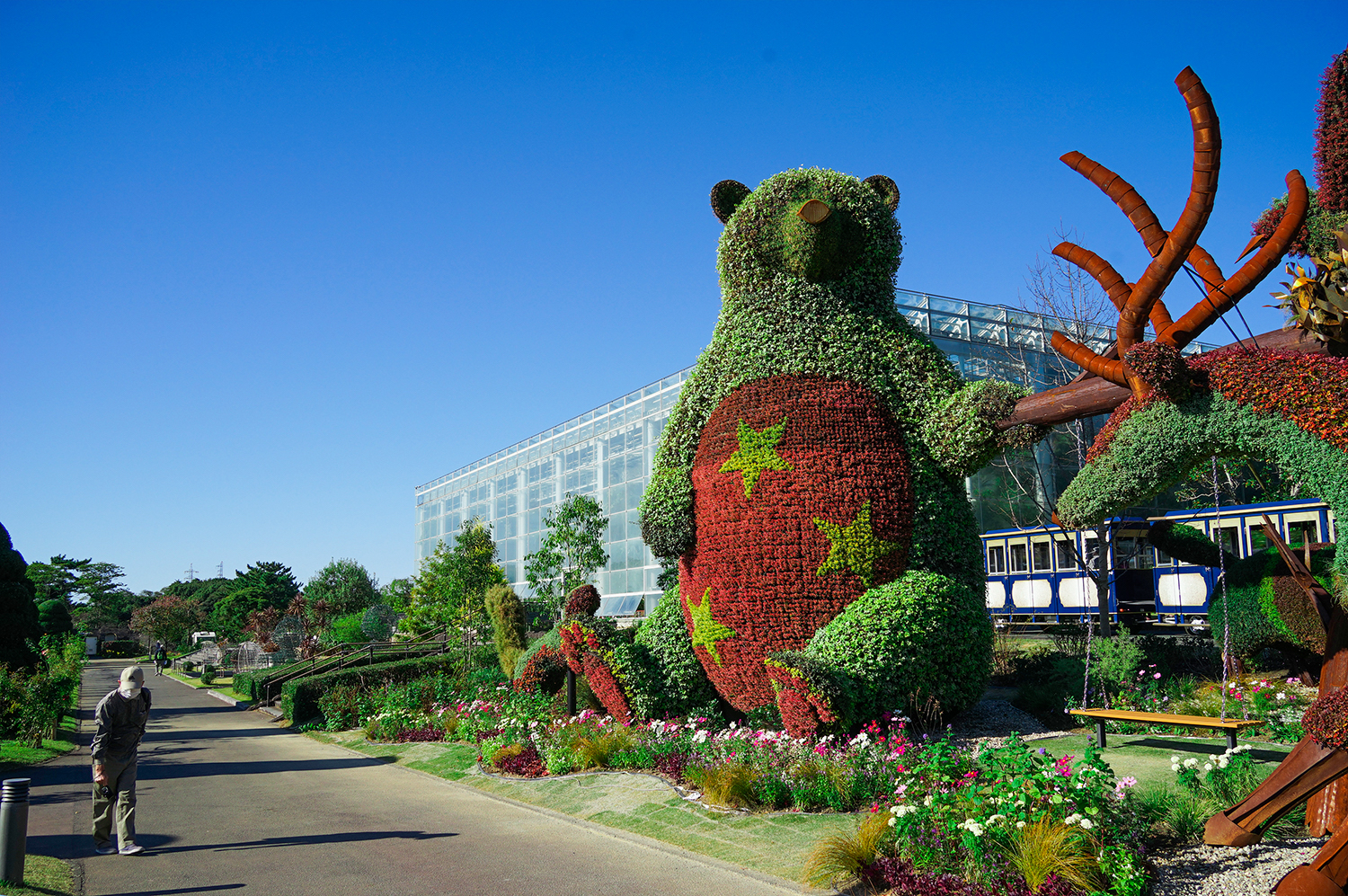 Mosaiculture sculptures created from flowers and vegetation are located in front of the Crystal Palace. The theme of these garden art works is "Friends of the Forest."
You can see the sculptures' massive scale compared to the person in the photo!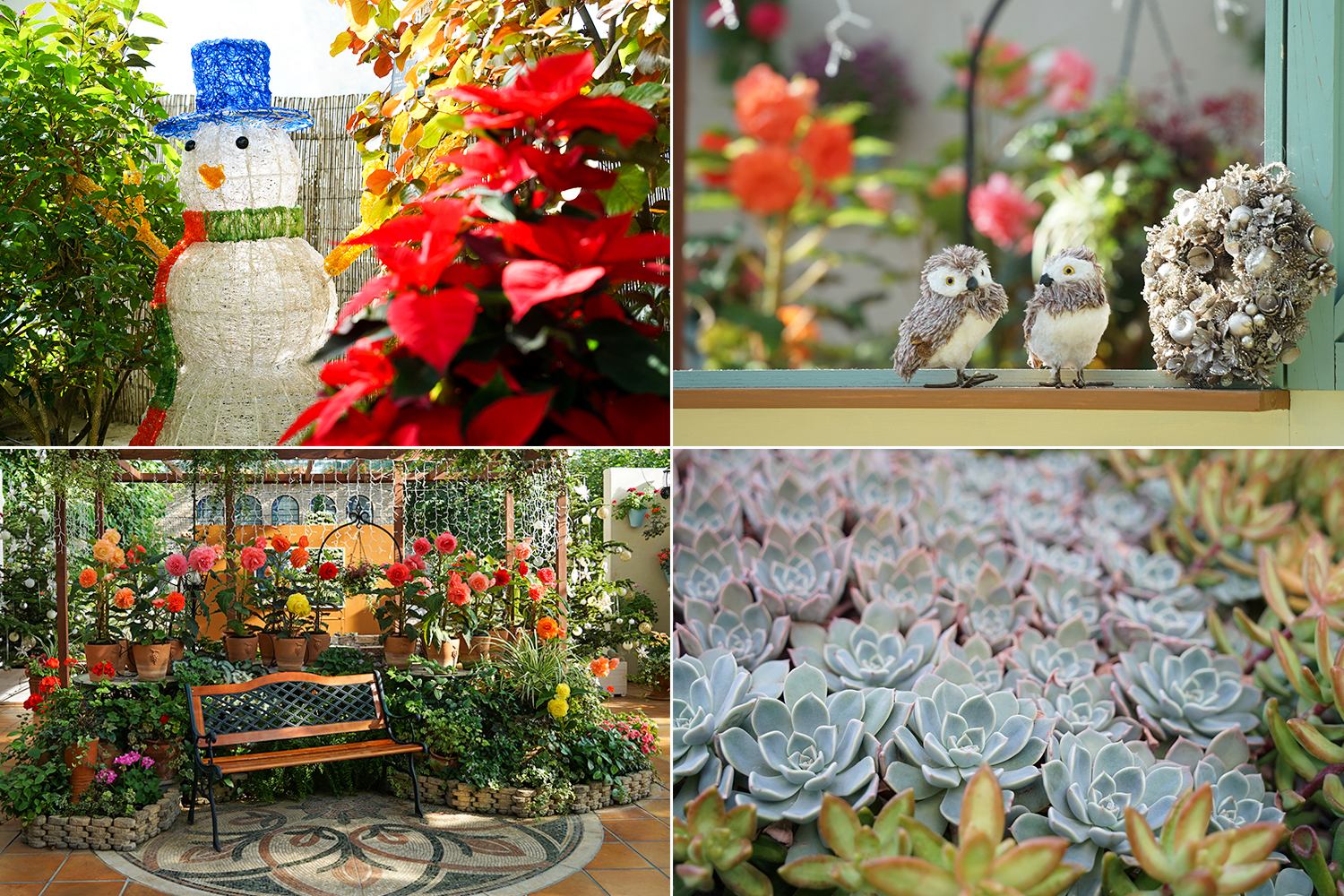 The Crystal Palace is divided into several smaller areas. These include the Bali Garden, featuring flora from Bali, the cacti-filled Mexican Garden, and many more.
The greenhouse's central display changes seasonally. At the time of writing, the December theme was Christmas!
Cross the Lake on the Kanzanji Ropeway
Next, let's enjoy the view of Lake Hamana from the ropeway.
Take the bus from the Flower Park and get off four stops later at the Hamanako Palpal bus stop. The ride takes about five minutes and costs 210 yen.
If you're taking the bus from Hamamatsu Station, it takes about 43 minutes and costs 620 yen.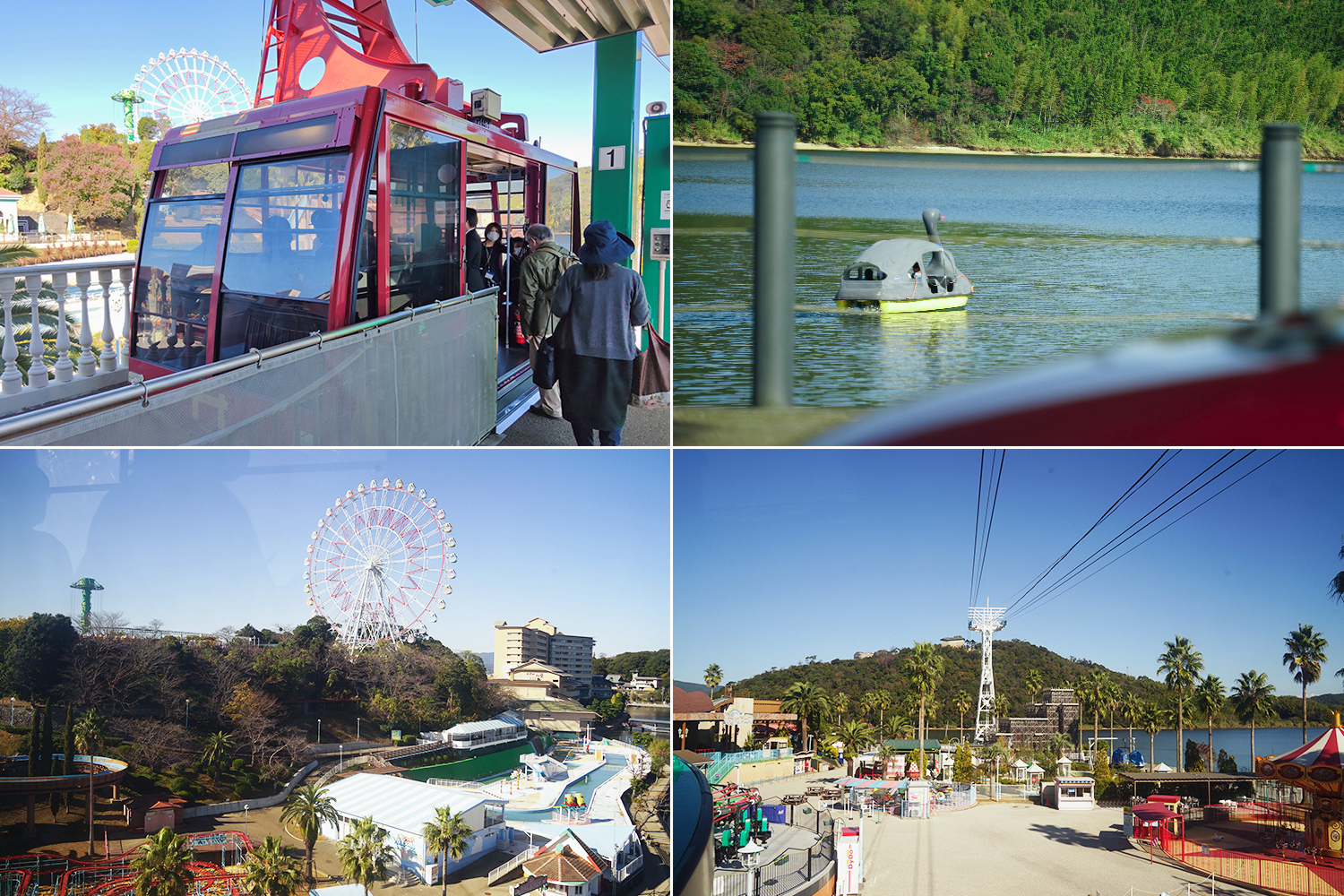 Kanzanji Ropeway is Japan's only ropeway spanning a lake. The platform is located next to HAMANAKO PALPAL, a resort-style amusement park.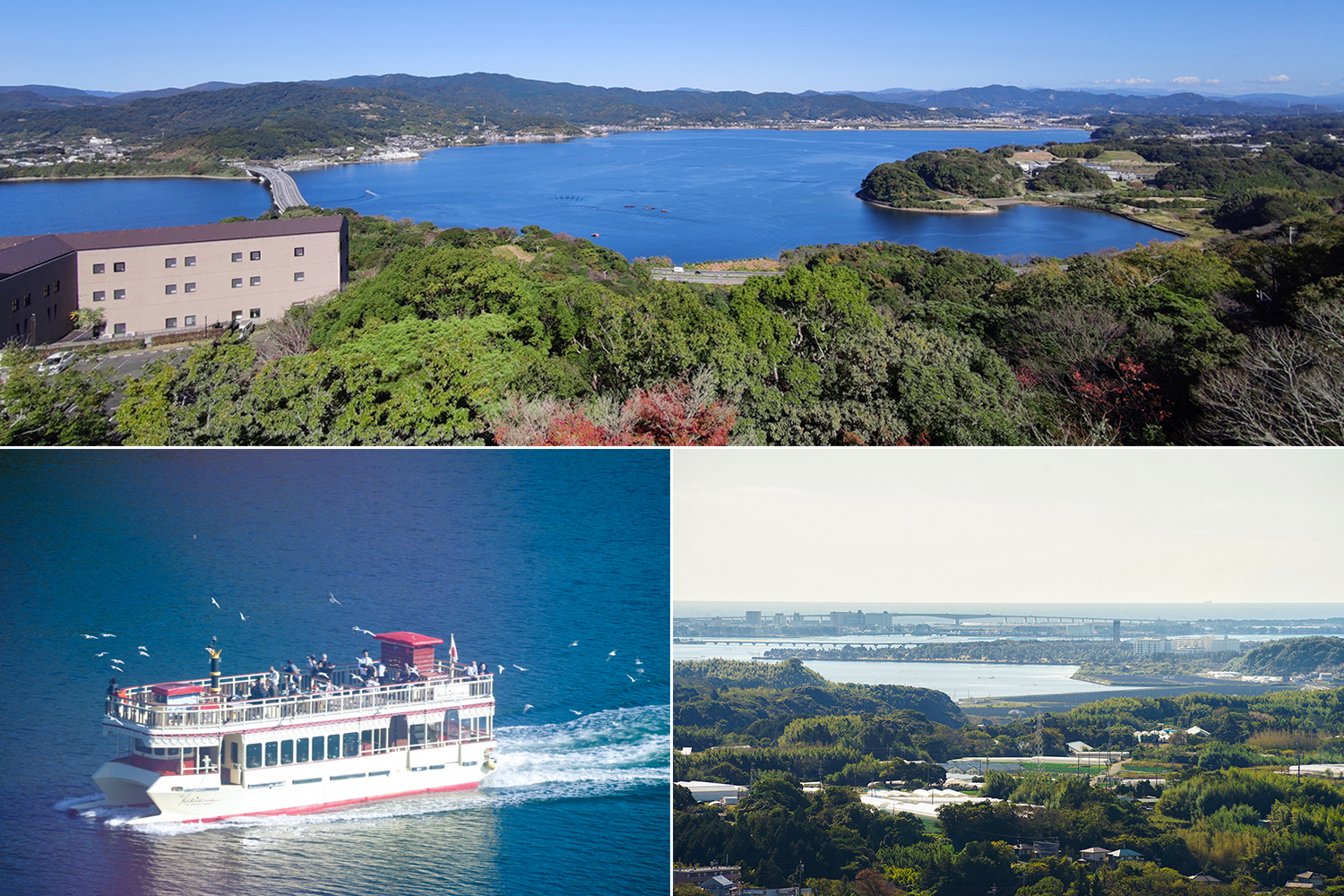 The ropeway's final stop is the summit of Mt. Okusa, which towers over the northern shore of Lake Hamana.
The Hamanako Orgel Museum, a sightseeing spot near the summit, is a great place to stop by. This museum has every type of music box imaginable, and offers music-box-making workshops.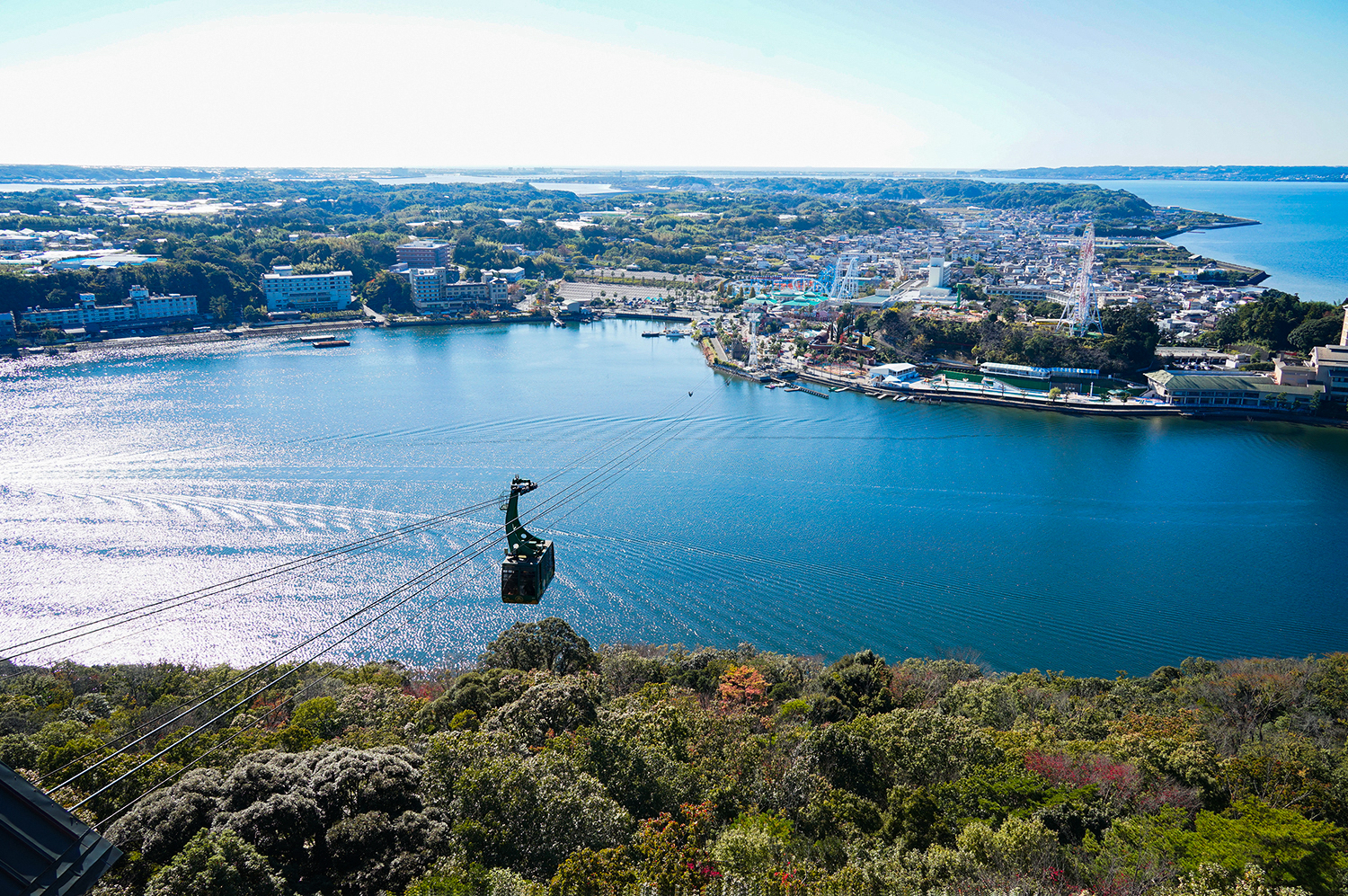 The museum's rooftop serves as an observation deck, surveying Lake Hamana. You can see as far as downtown Hamamatsu and the Pacific Ocean! In the evenings, the sunset over the lake is a must-see.
Order Unaju Boxes at Kanzanjien
For lunch, let's head to a famous unagi restaurant in Hamamatsu. A ten-minute walk from Kanzanji Ropeway, Unagi Kohan Shokubo Kanzanjien serves locally caught eel.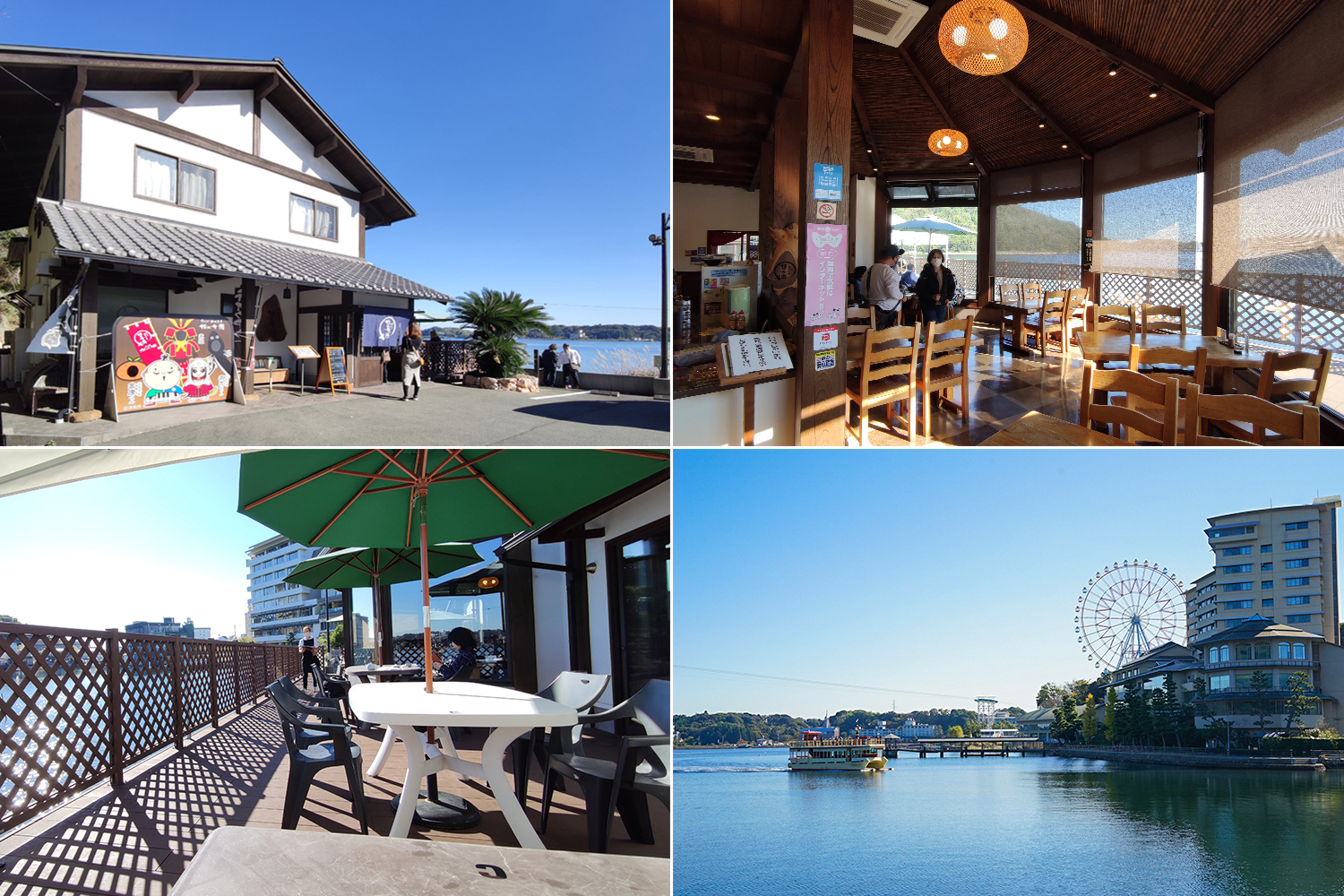 The restaurant is right by Lake Hamana. On sunny days, you should try dining out on the terrace and admiring the scenery.
You can see the Kanzanji Ropeway from the terrace. After a while, you might also catch sight of sightseeing boats cruising across the lake.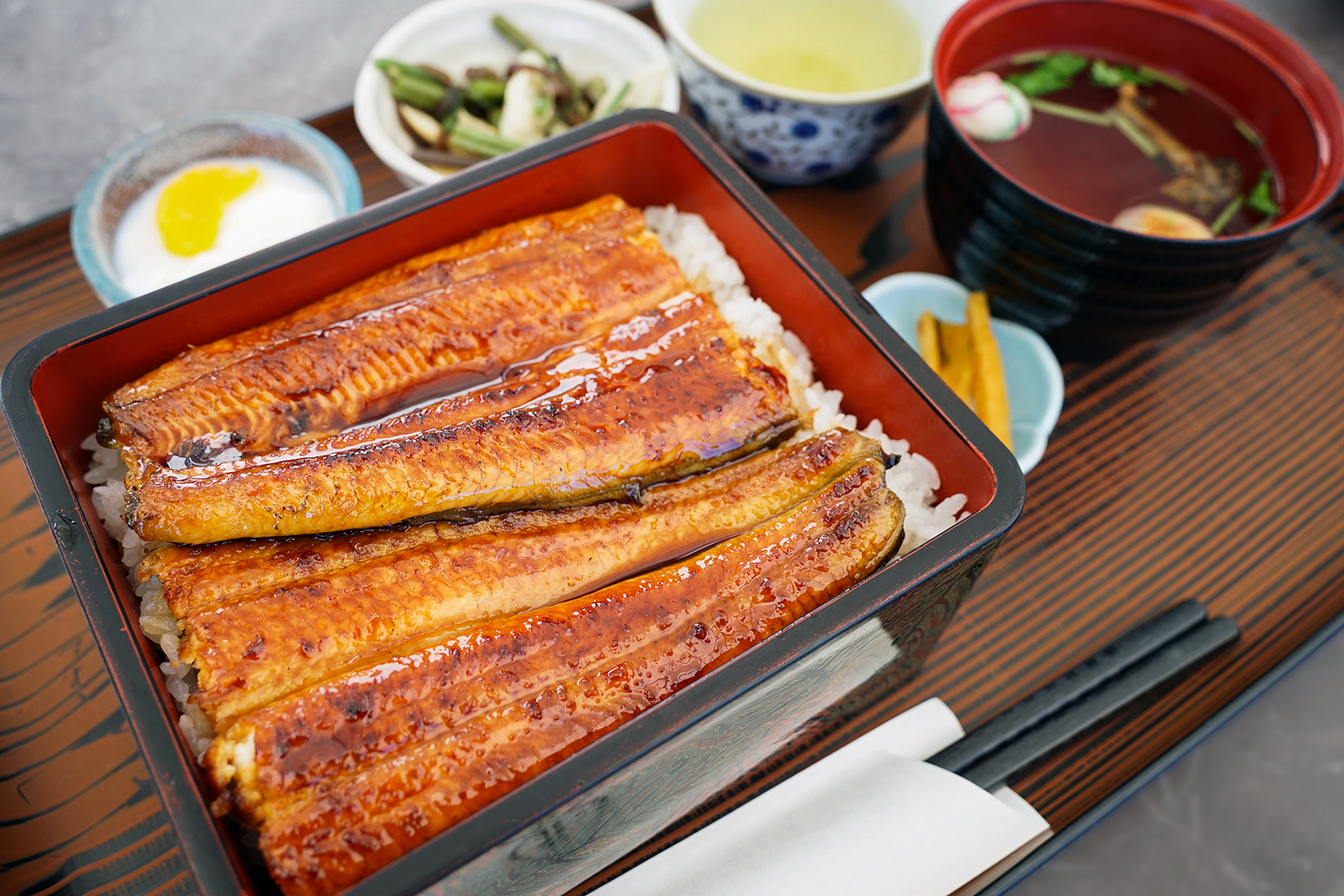 The restaurant has plenty of filling unagi dishes from unadon (unagi rice bowl; 2,700 yen before tax) to unagi teishoku (a set meal; 5,100 yen before tax). The menu also has pictures of the dishes, so you don't need to worry about ordering in Japanese.
We ordered the unaju (broiled eel over rice in a lacquered box; 3,700 yen before tax). This set comes with a small serving of wild vegetables, kimosui (a clear soup with eel liver), and almond jelly for dessert.
Oysters are in season from November to March. During this time, kaki kabadon (oysters cooked kabayaki-style over rice; 1,600 yen before tax) is a local specialty served at Kanzanjien. The oysters are covered in a sweet-savory sauce that's so delicious, you won't be able to stop eating!
Other meal options include a fried shrimp set menu, karaage (fried chicken) set menu, and sashimi (sliced raw fish) set menu.
Pray for Love at Kanzanji Temple
After replenishing your energy with unaju, head over to our next destination: Kanzanji Temple. Near the entrance of Kanzanjien are stairs leading up to the temple.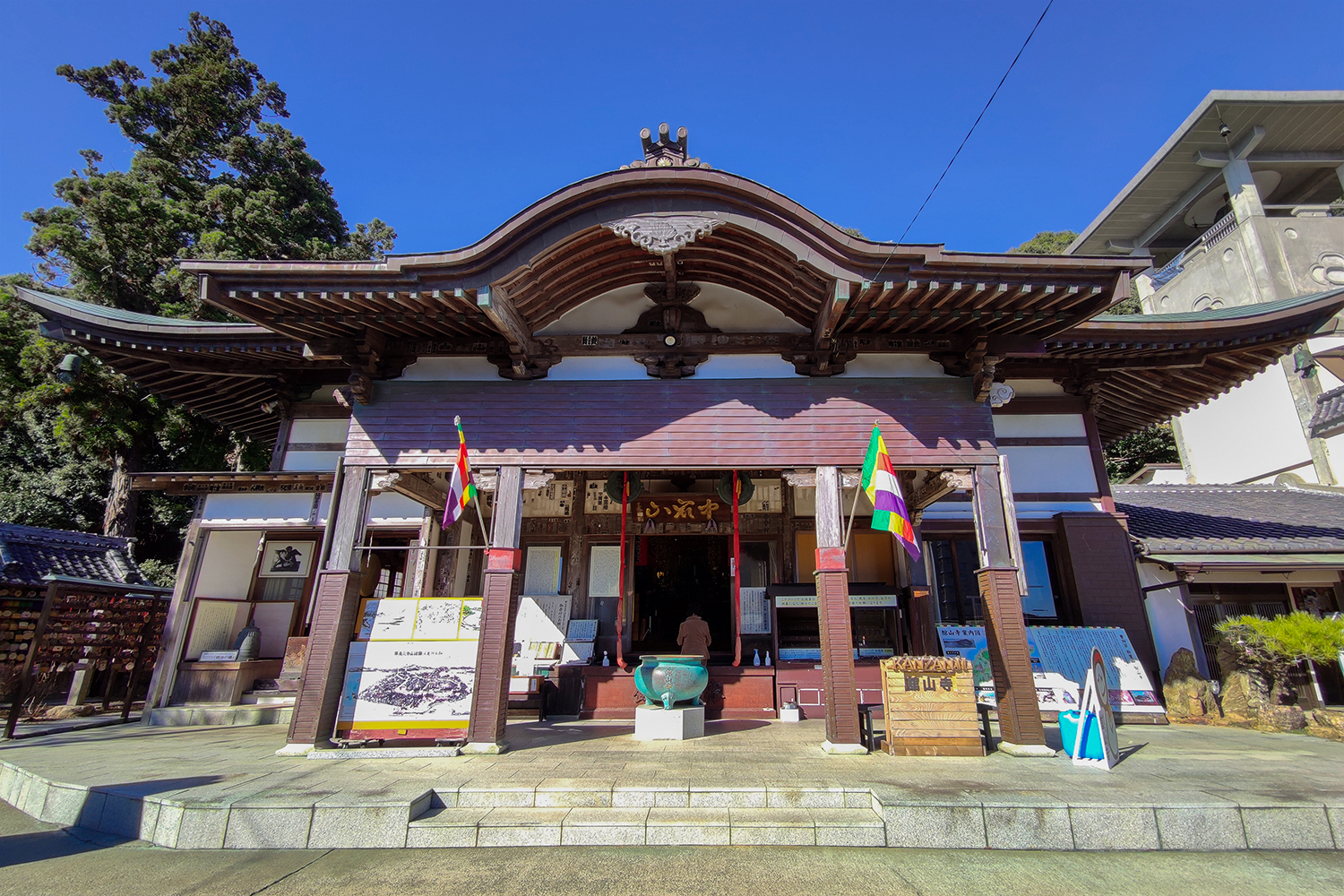 Once you've climbed up the steps, you'll see the main hall. Kanzanji Temple has been patronized by locals for centuries since its construction in 810.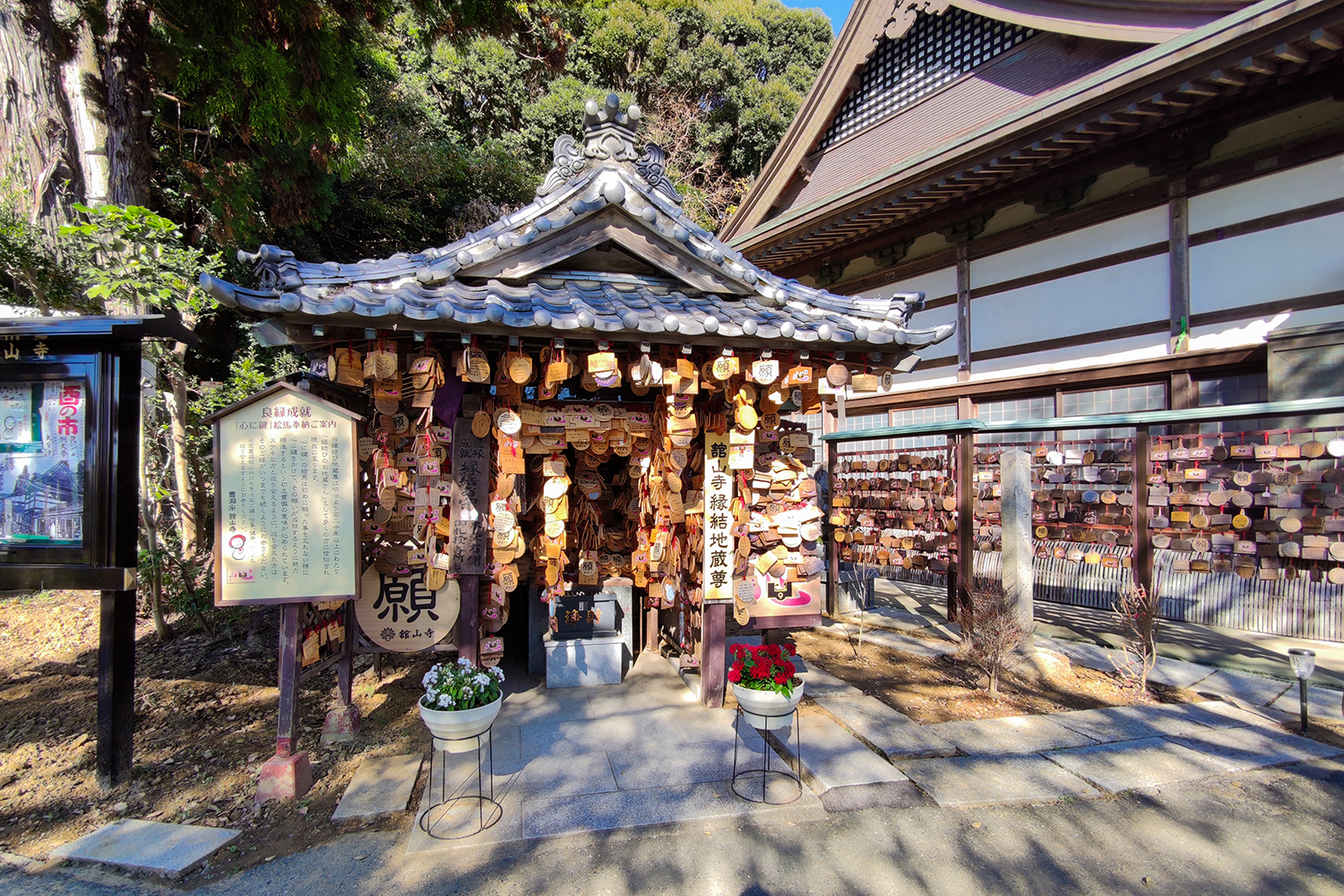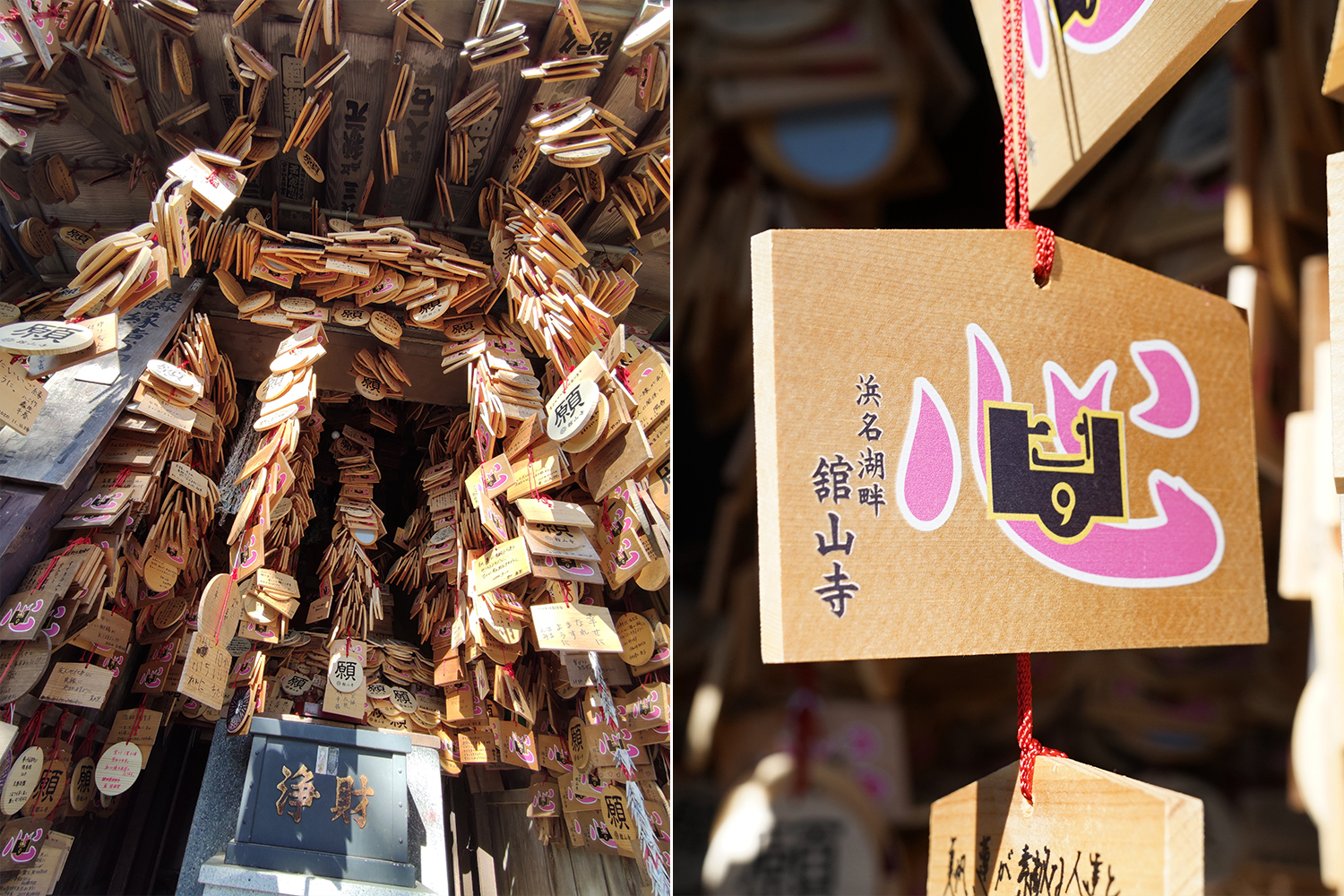 Left of the main hall, there's a small hall where the Matchmaking Jizo has been enshrined since the Meiji Period.
Printed on the ema (wooden prayer plaque) are the Japanese characters for heart and mind, along with the image of a keyhole. Visitors typically write their wishes on this ema and pray for luck in finding a romantic partner.
Ema and omamori (good luck charms) can be purchased at the temple office to the right of the main hall. Some protective charms feature the same imagery as the prayer plaques.
About eight minutes from the main hall, you'll spot a 16-meter-tall statue of Kannon Bodhisattva, the Buddhist goddess of mercy. Once you've asked the Kannon Bodhisattva for safe travels, head back down the mountain.
Take a Short Break at KUSHITANI CAFE
Want to take a short break before boarding the bus? KUSHITANI CAFE Kanzanji is run by KUSHITANI, a motorcycle accessory brand.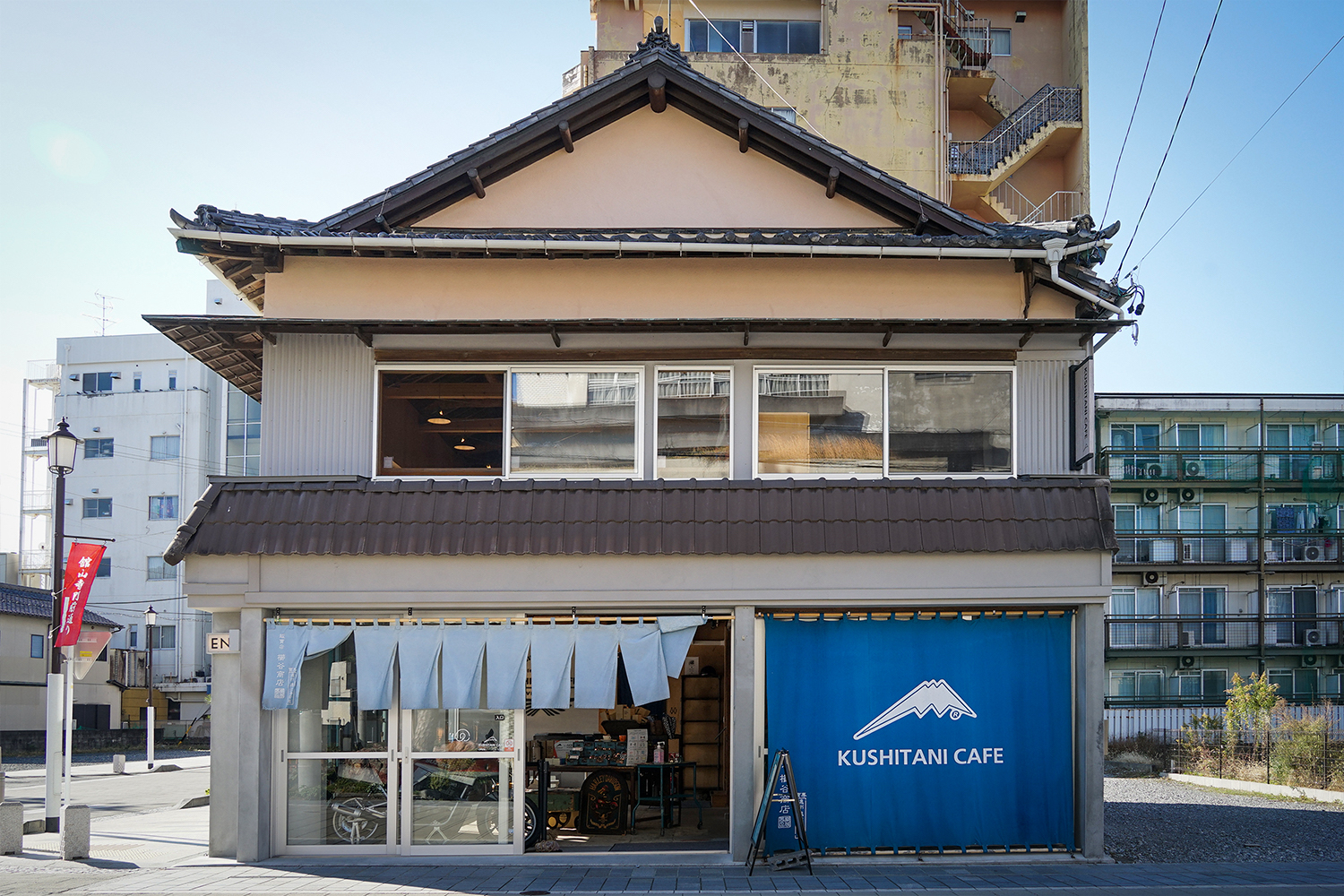 This cafe is a haven for motorcyclists. Of course, non-riders are welcome to come, too!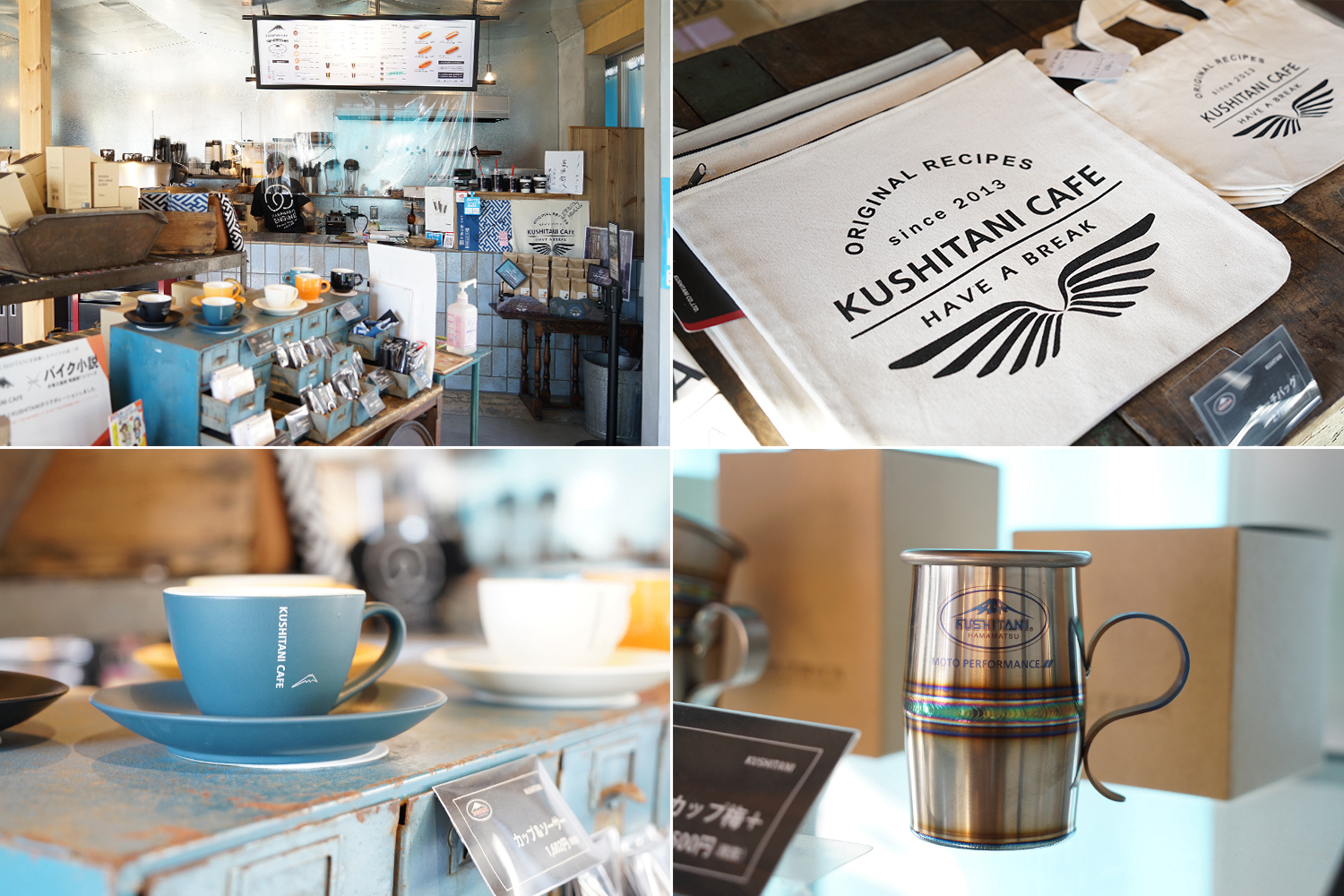 Renovated from an old store, the cafe has a stylish ambience that blends nostalgia and novelty.
The counter for ordering food and drinks is on the first floor. Original merchandise—including mugs, tumblers, tote bags, and leather wallets—are sold next to the counter.
The titanium cups, pictured bottom right, are made with the same technology used to weld motorcycle mufflers!
Drinks include coffee, hot chocolate, Japanese tea, black tea (hot or iced), and smoothies.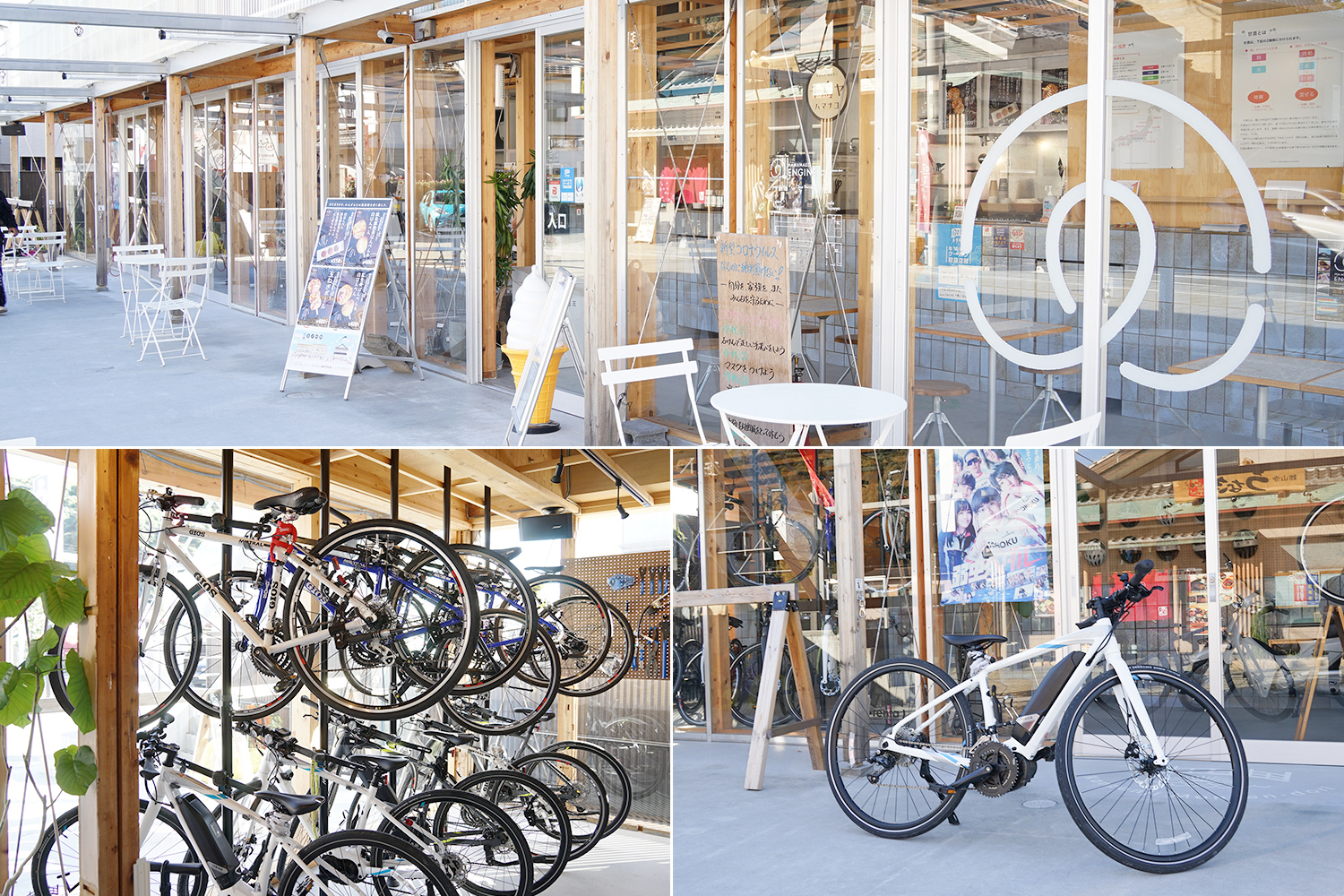 The cafe is located in a commercial facility called HAMANAKO ENGINE. You can also rent bicycles here, and explore the area on wheels.
Shibuki Bridge: Lake Hamana's Signature Red Bridge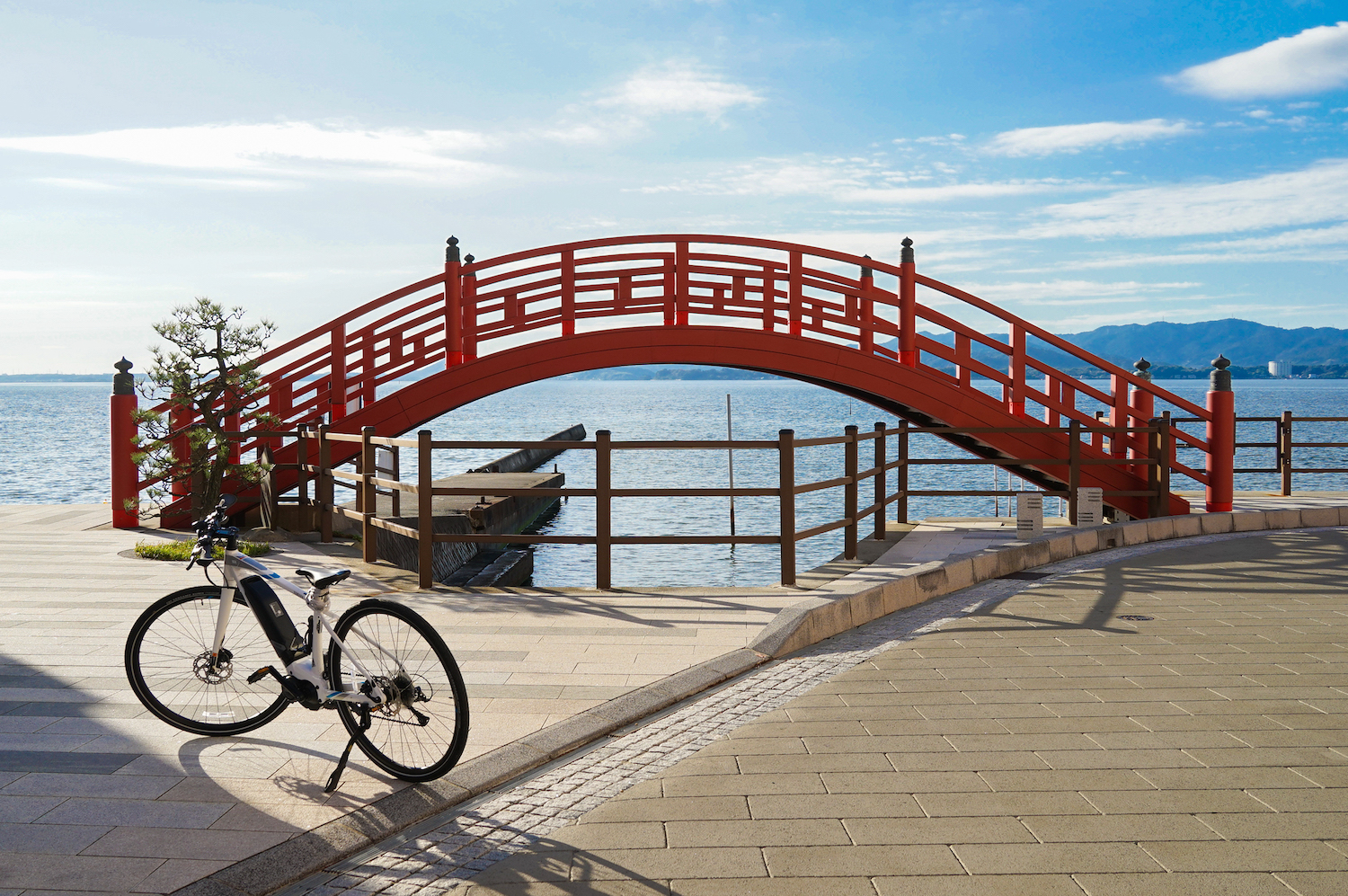 We still have a few photogenic spots left to introduce!
This red bridge at the far end of HAMANAKO ENGINE is Shibuki Bridge. On the day we visited, a group of motorcyclists parked their bikes and were taking photos here.
Nukumori no Mori: A Village Straight Out of a Fairy Tale
Next, we'll head to a village that looks just like a scene from a picture book.
Take the bus from Kanzanji Onsen and disembark at the Sujikai-bashi bus stop. Travel time is about ten minutes, and the fare is 260 yen. Cross the intersection and keep walking until you reach an entrance sign on your left.
If you're taking the bus from Hamamatsu Station, it will be a 35-minute ride and cost 490 yen.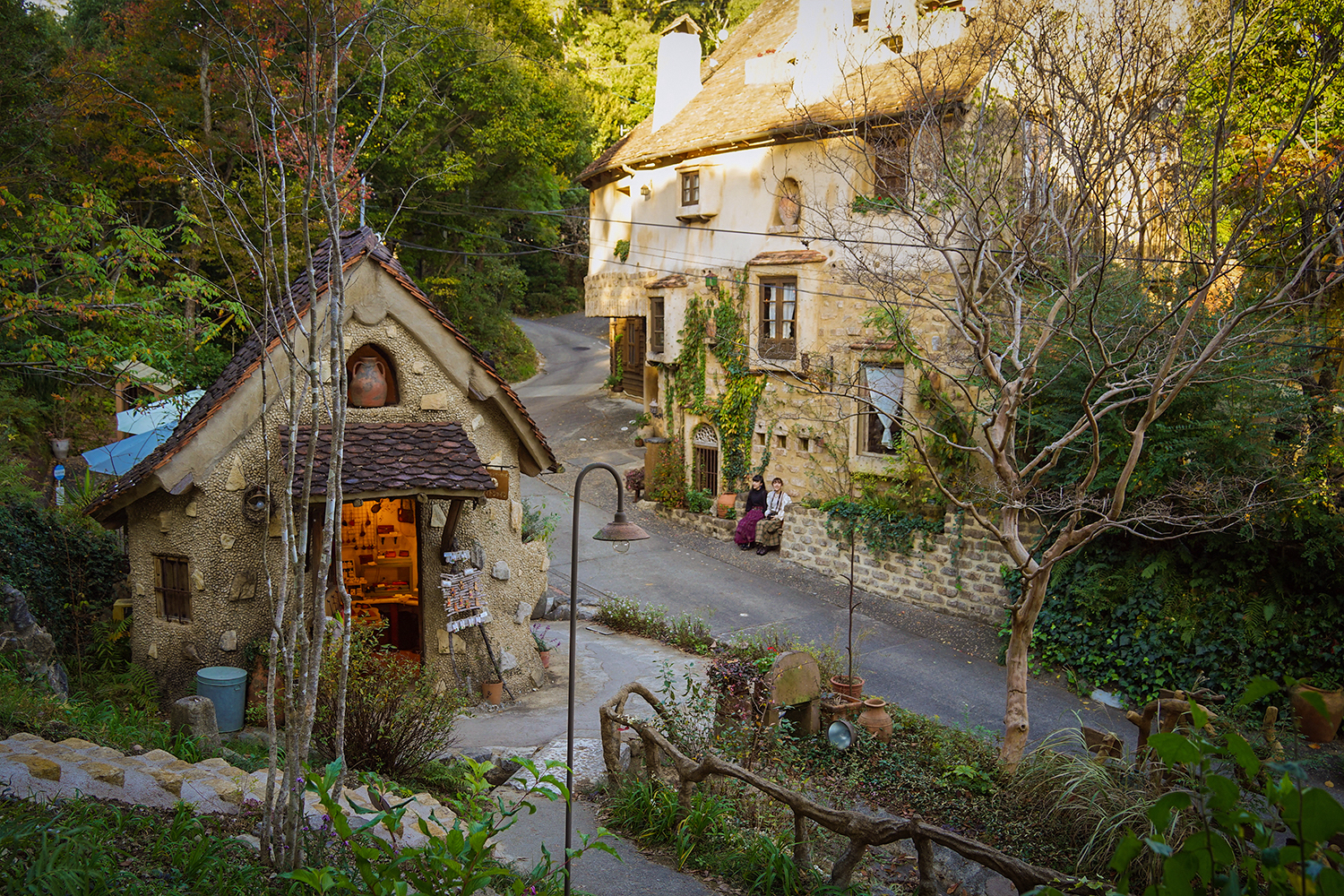 The moment you take a step into Lake Hamana Nukumori no Mori, it'll feel like you've wandered into a fairy tale village!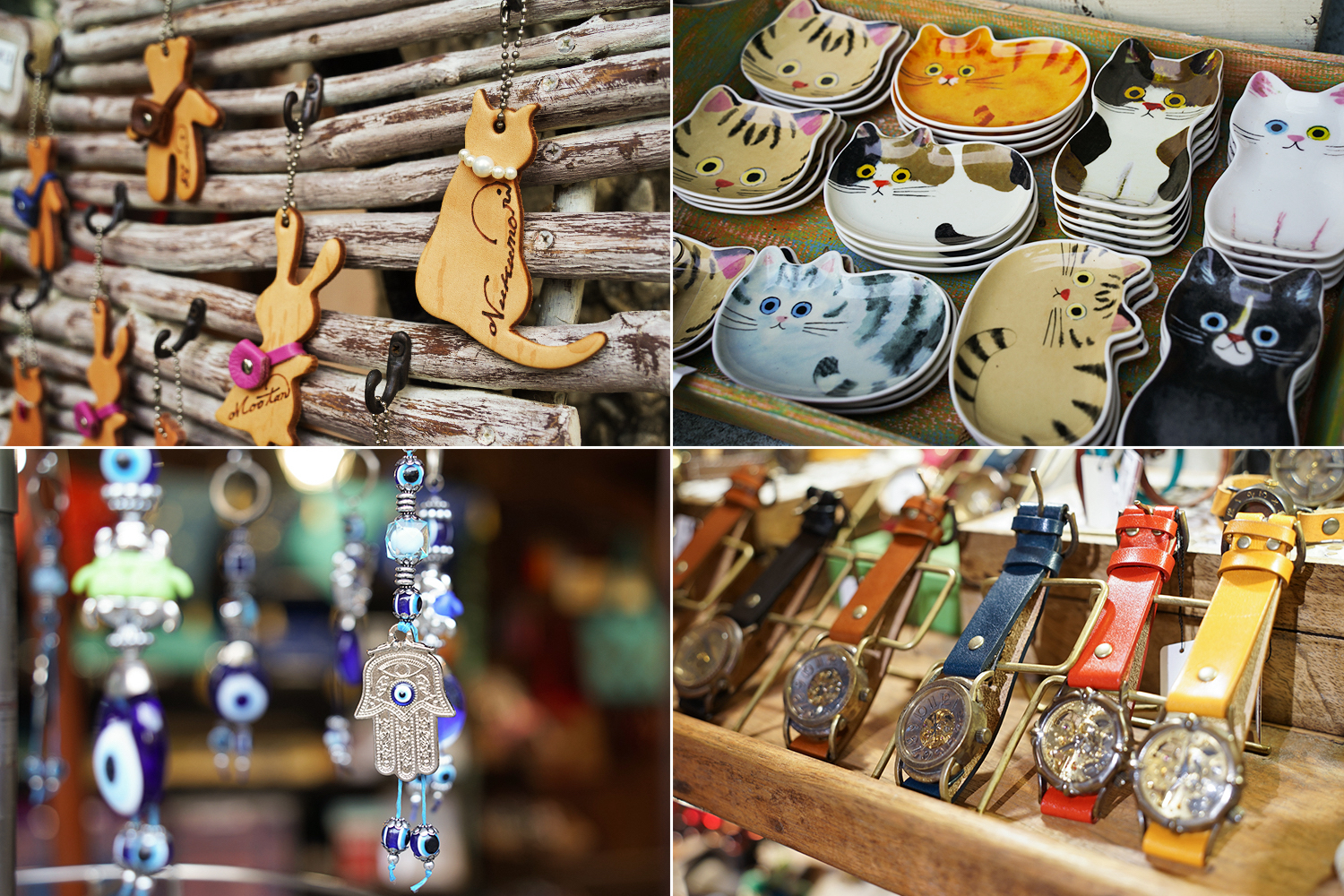 There are tiny, uniquely-shaped homes lining both sides of a small path. Inside each of these homes are general stores selling handmade products.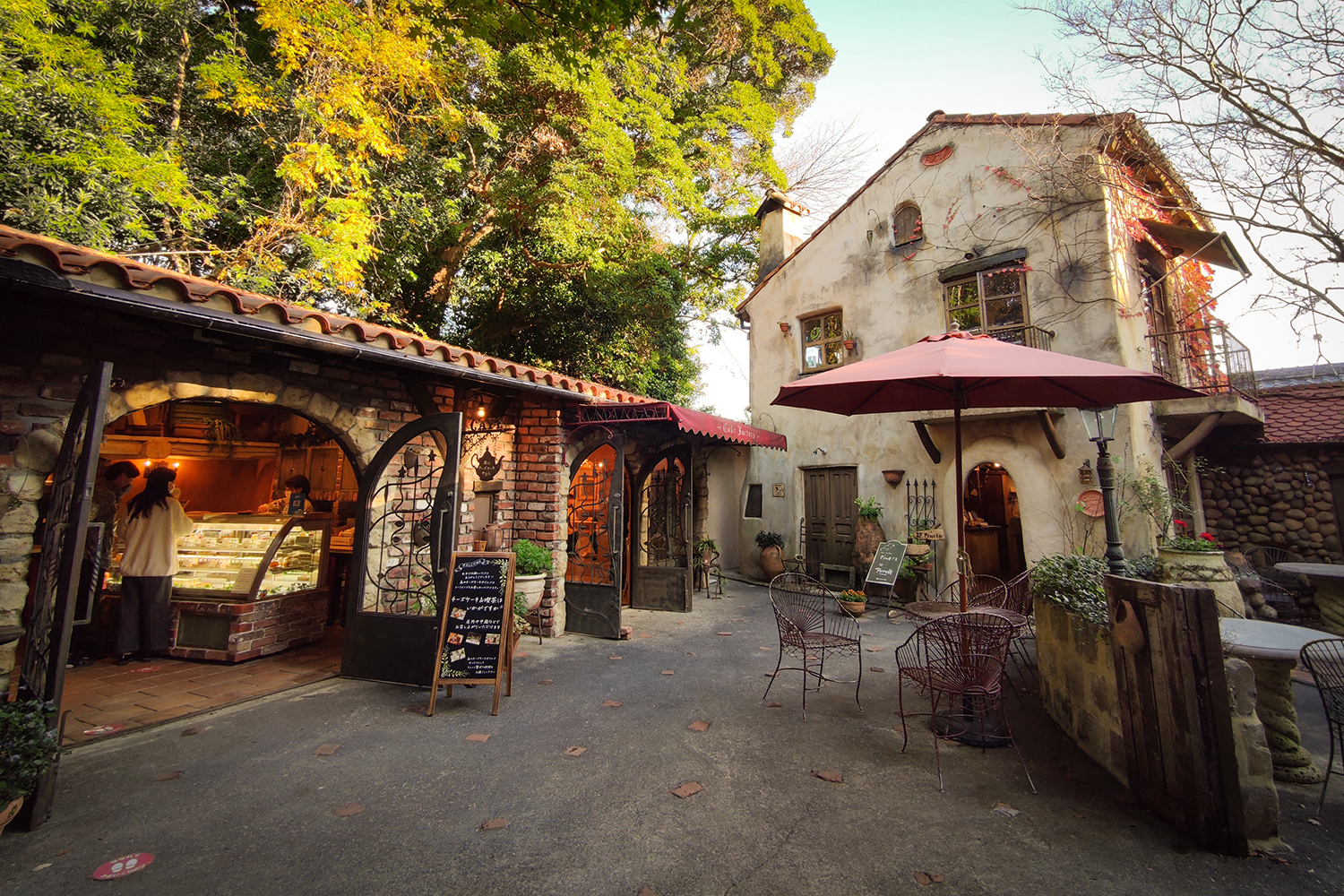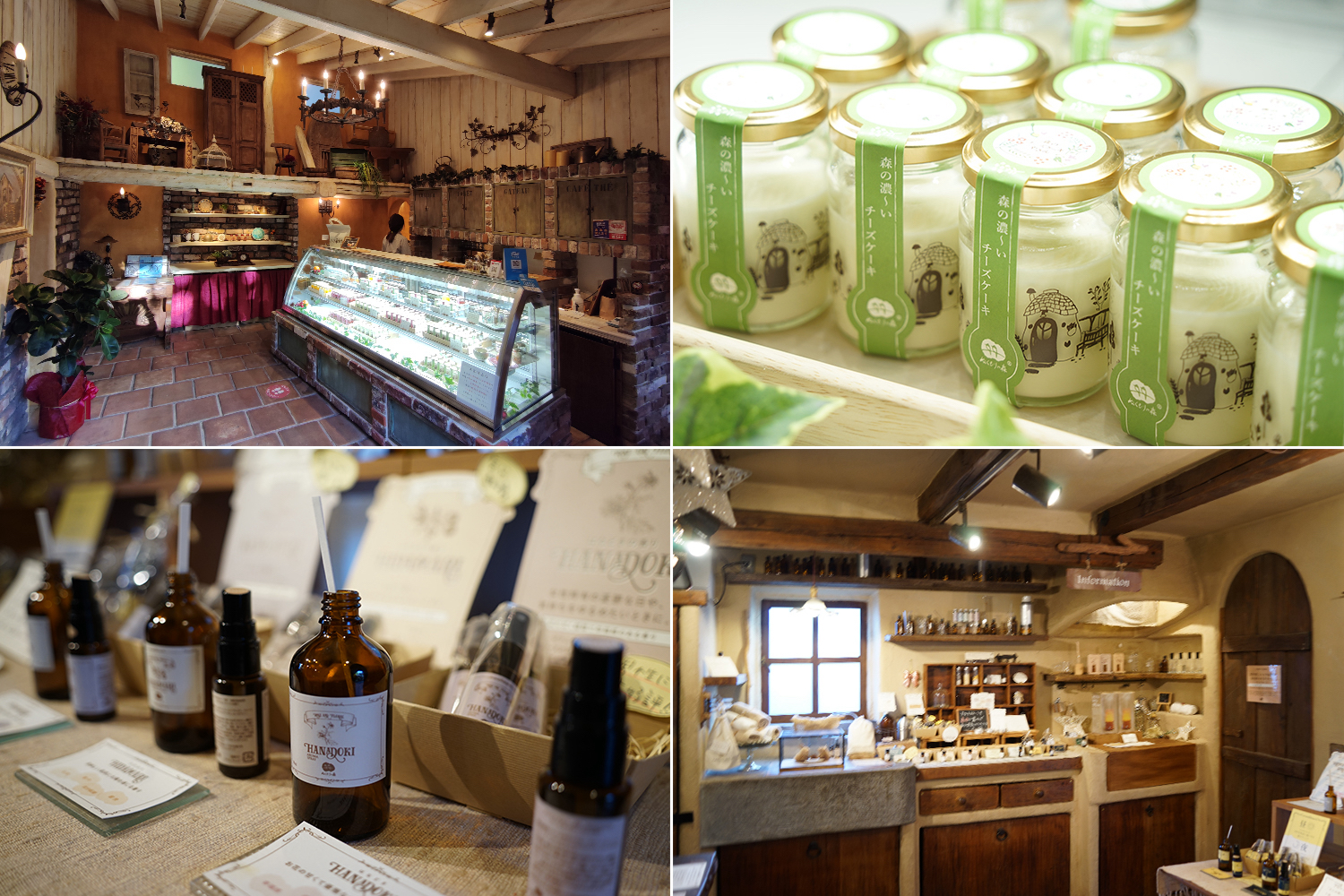 The village is also home to restaurants and sweets shops.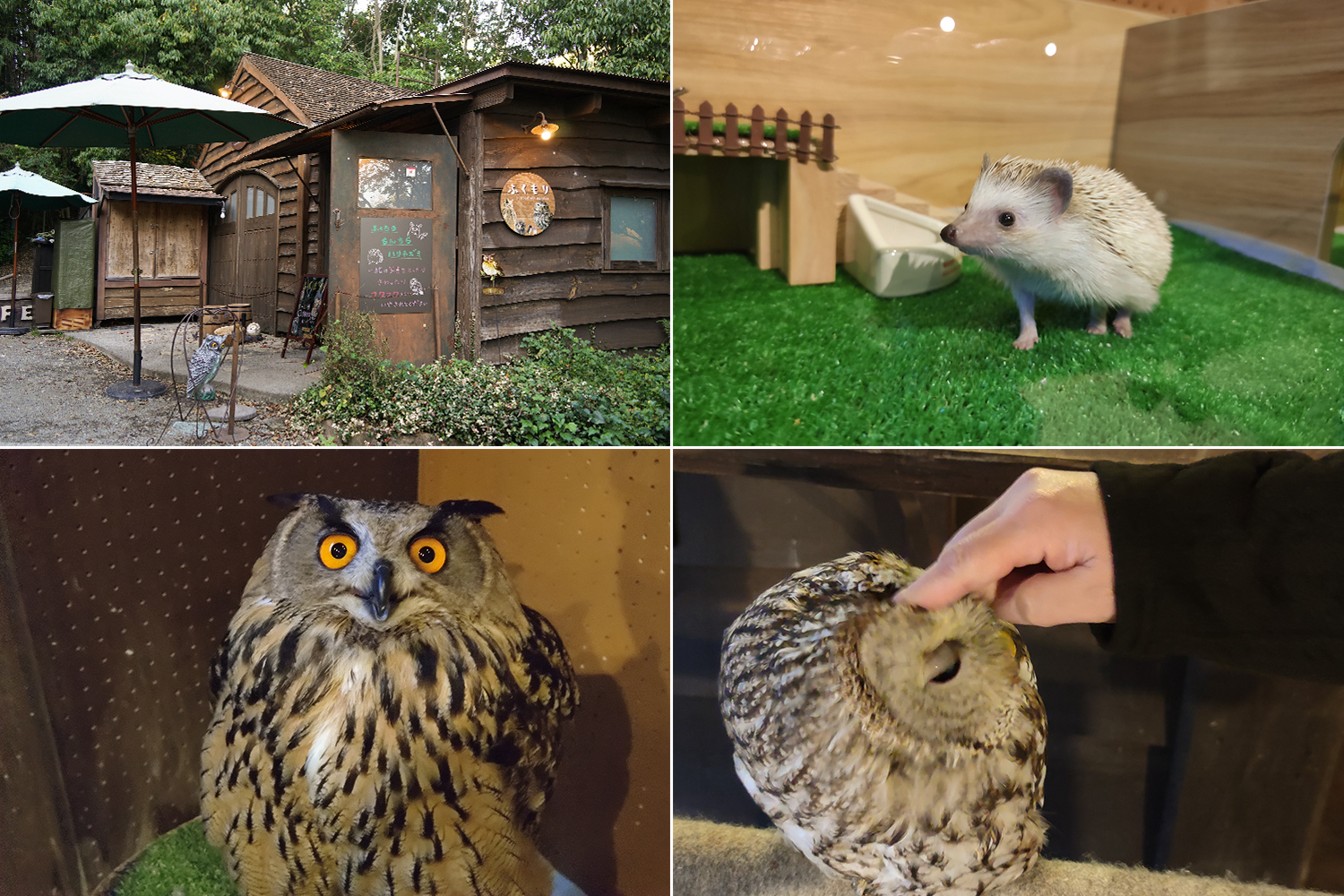 Are you an animal lover? Head to the village lodge Fukumori. You'll find adorable owls, hedgehogs, and chinchillas awaiting you. Fukumori has a 1,000 yen entrance fee, but there's no time limit.
Once you're ready to leave this fairy tale world, it's time to head home to Hamamatsu. Similar to the previous route, take the bus from the Sujikai-bashi bus stop to the Hamamatsu Station Bus Terminal. The travel time is about 38 minutes and the fare is 490 yen.
Watch a Sunset Through Benten Island's Torii
On your first day in Hamamatsu, we suggest watching the beautiful sunset you can only enjoy here.
Take the JR Tokaido Line from Hamamatsu Station and get off at Bentenjima Station. The ride takes about 12 minutes and costs 240 yen.
Every year between November 20 and January 20, sightseers can watch the sunset descend between the pillars of the island's torii gate. This can be seen from Seaside Park on Benten Island in Lake Hamana.
Head to Hamataro for Famous Hamamatsu Gyoza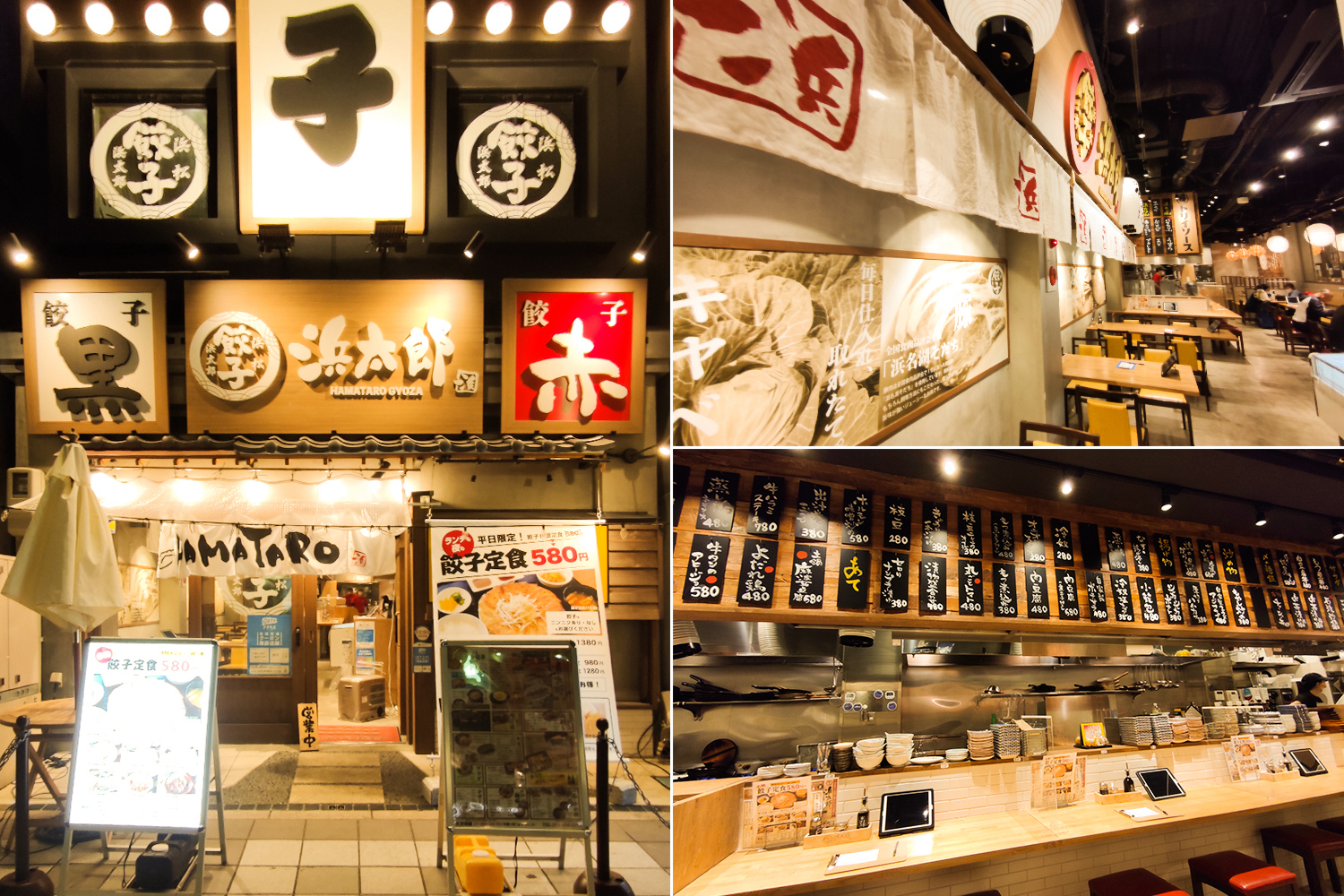 Gyoza (potstickers) are another specialty of Hamamatsu. Along with Utsunomiya in Tochigi Prefecture, Hamamatsu is one of the two famous dumpling cities in Japan.
From Hamamatsu Station, it's a five-minute walk to renowned gyoza restaurant Hamataro.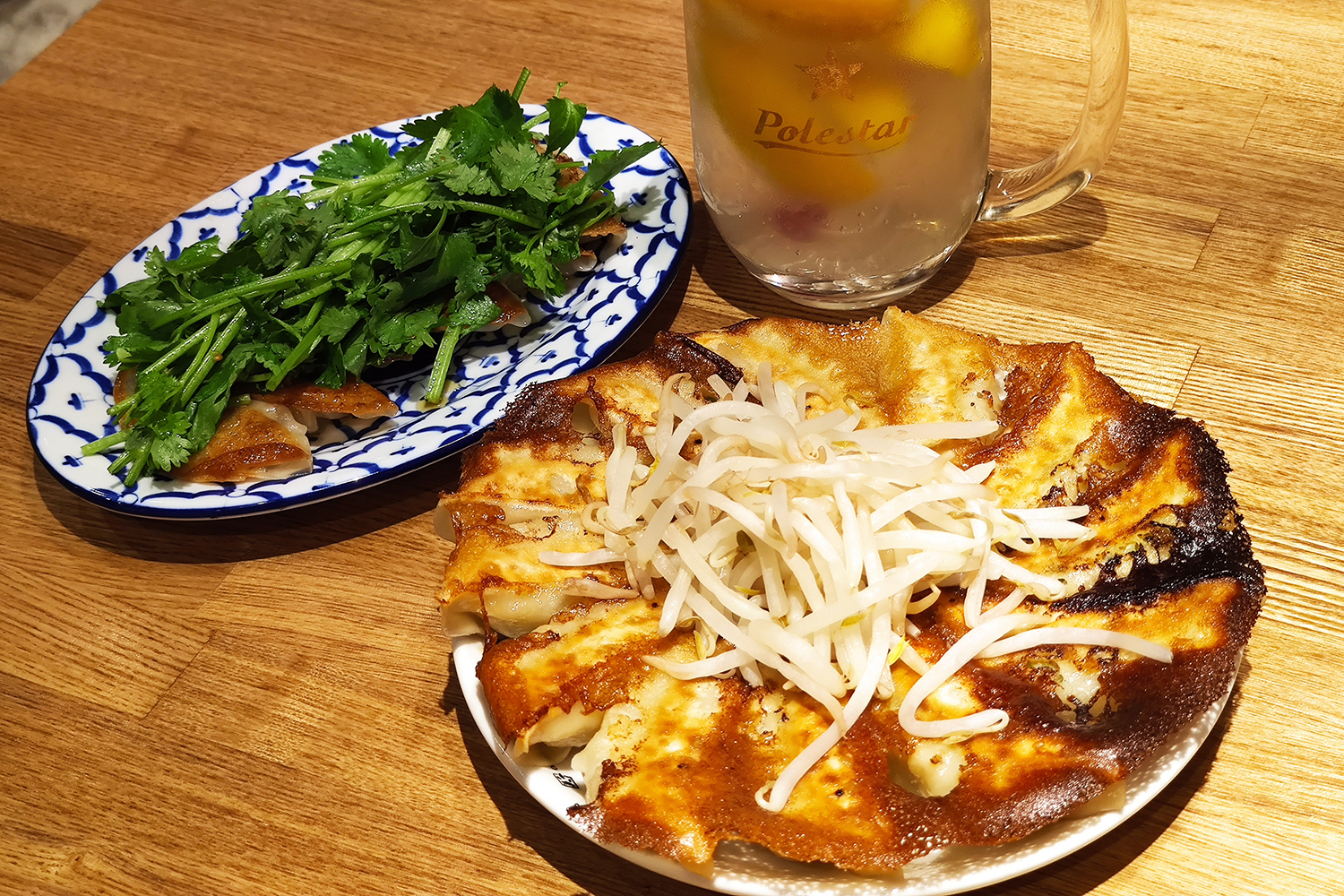 Their specialty dish is Hamamatsu Gyoza (12 pieces for 760 yen before tax). The dish is beautifully arranged in a circle and garnished with beansprouts—a signature of Hamamatsu Gyoza.
Pictured behind the Hamamatsu Gyoza are coriander potstickers (6 pieces for 380 yen before tax). These pan-fried dumplings are flavored with a Thai-style sauce that is sour, sweet, and salty all at once. It tastes absolutely delicious!
Stay the Night at KITANONIWA THE KURETAKESO
Our accommodation for this trip is KITANONIWA THE KURETAKESO. Head for the north exit of Hamamatsu Station and you'll see the front of the hotel. It's only a three minute walk from the station.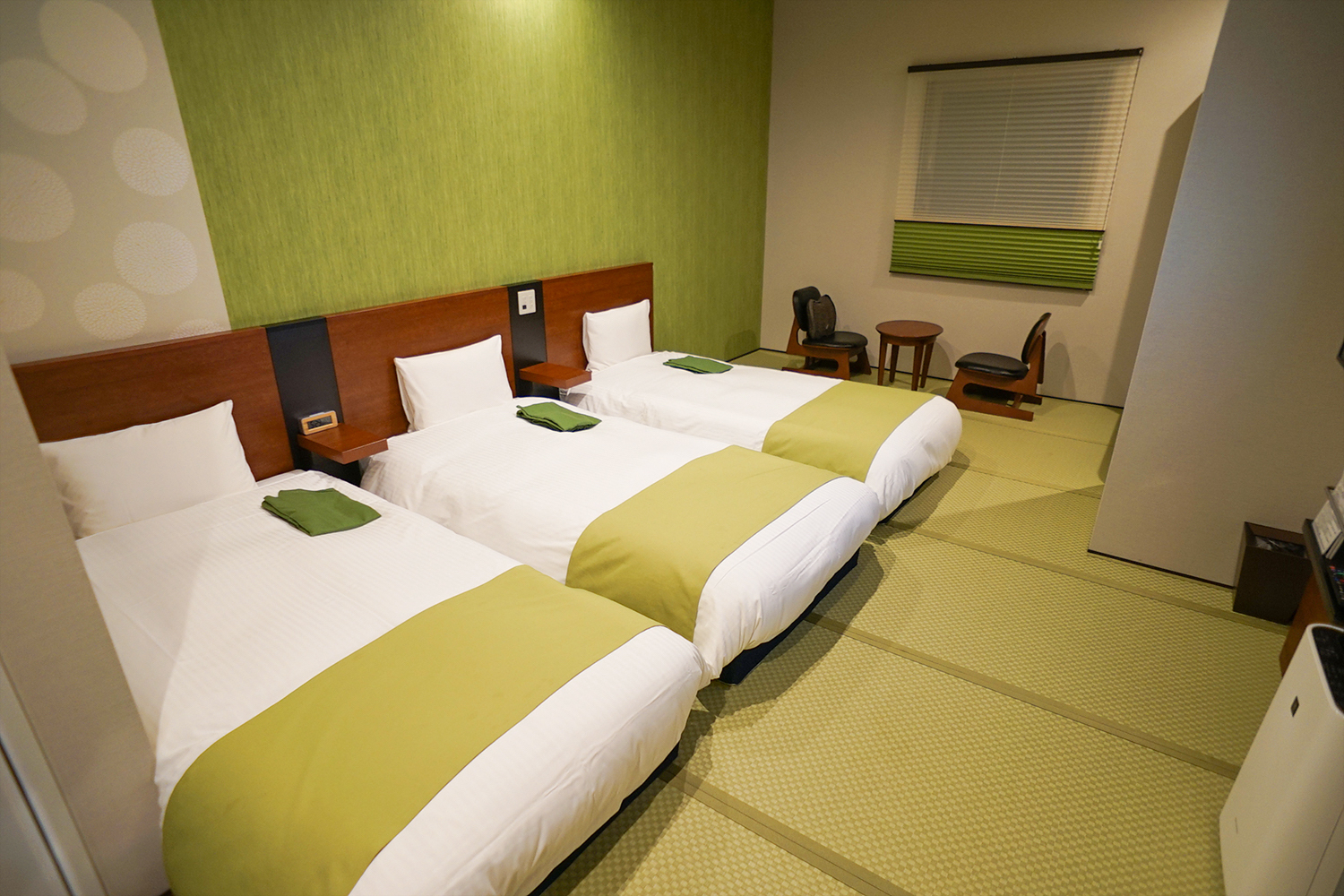 KITANONIWA THE KURETAKESO has a wide variety of guest rooms available.
The Modern Japanese Room, furnished with three beds, is popular with families. Since there are only three guest rooms of this type, make an early reservation if you're interested!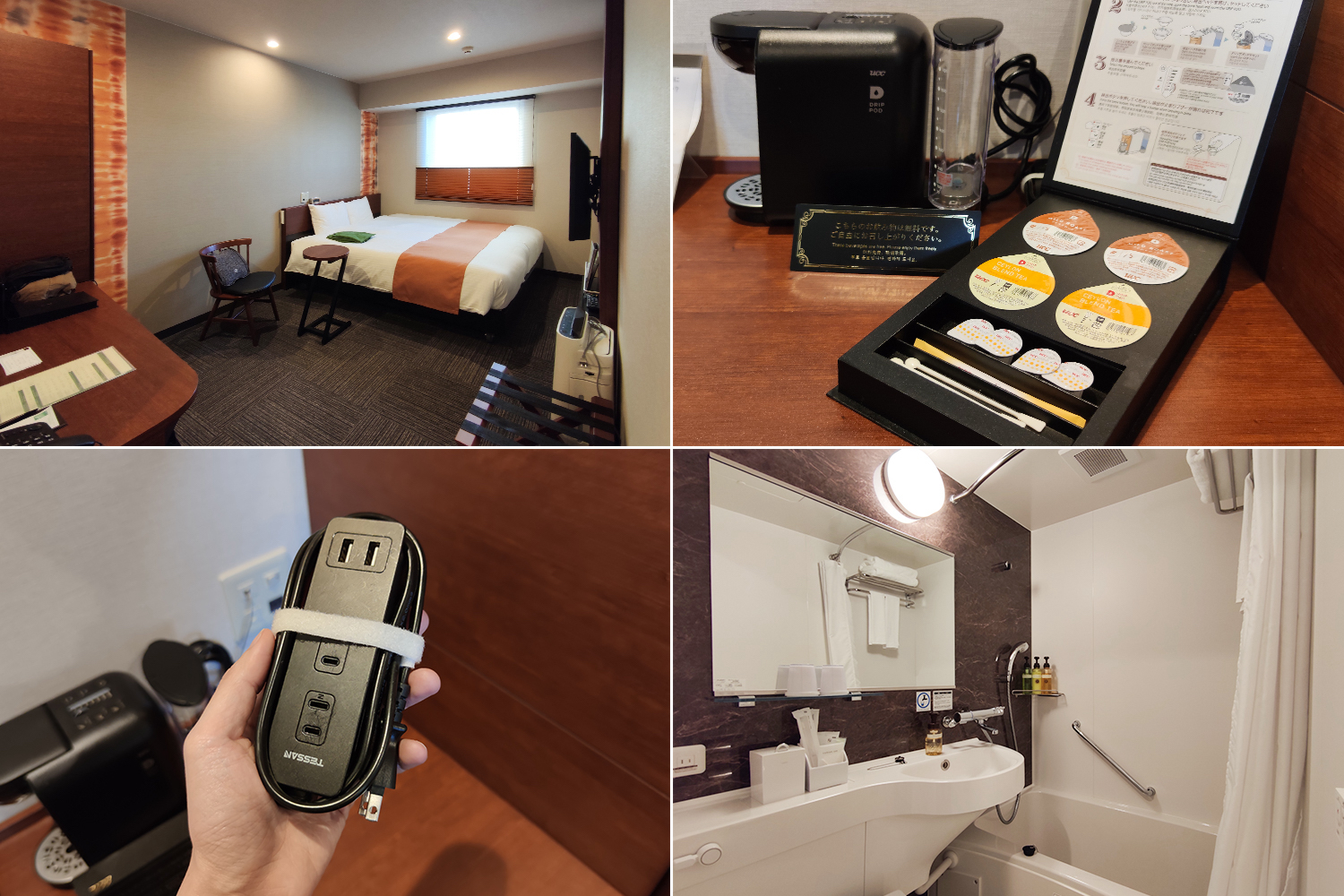 Are you looking forward to some relaxation? Then we suggest booking the Executive Double Room for your trip. This room is fully equipped with a coffee maker, tea, and bathroom amenities.
There is also an extension cord that makes it convenient to charge your phone and camera at the same time!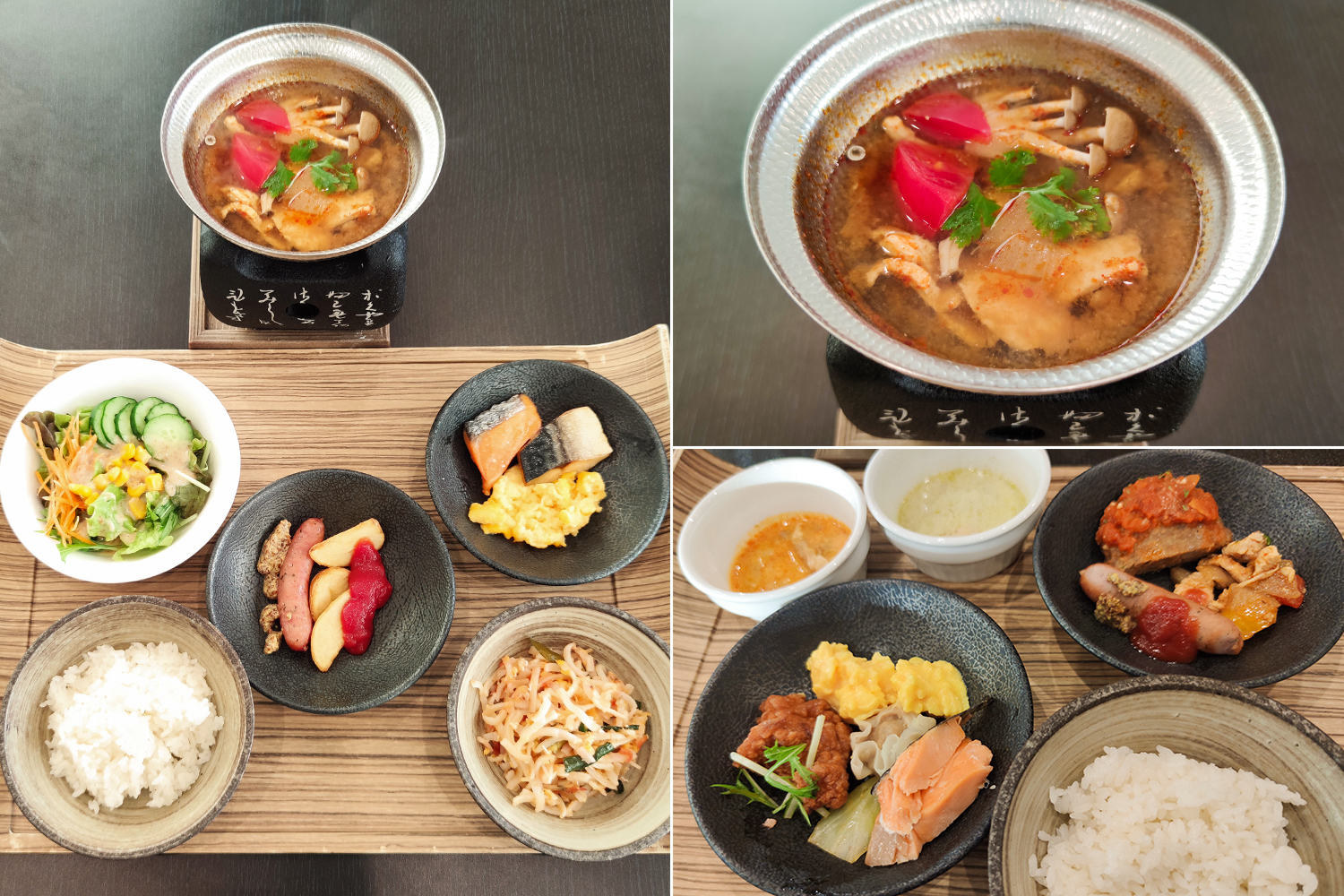 The breakfast menu changes daily. Guests can choose from three hot pot dishes—Japanese, Western, or Thai.
The hot pot cooked by the hotel's Thai chef is full of authentic flavor.
Day Two: Enjoy Musical Instruments, Culture, and Fall Foliage
On our second day, let's explore Japan's city of music, from historical sites to spectacular fall foliage in a temple garden.
Hamamatsu Museum of Musical Instruments
The first place on our day-two itinerary is the Hamamatsu Museum of Musical Instruments. It's about a ten-minute walk from Hamamatsu Station.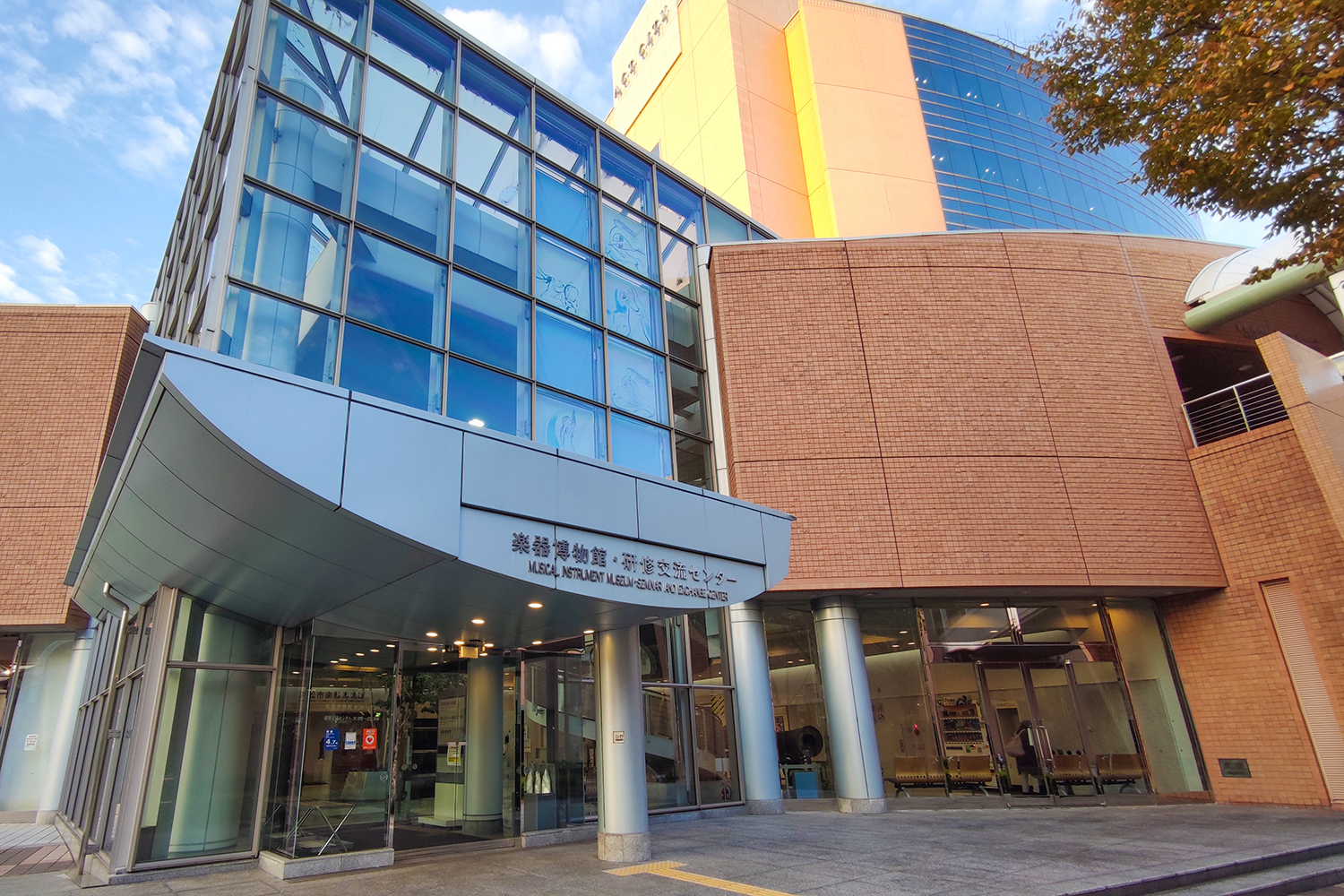 The Hamamatsu Museum of Musical Instruments is Japan's only municipally established public museum of musical instruments.
According to the museum, it operates on the concept of "exhibiting musical instruments from around the world equally and without bias, to explore human insight and sensitivity through instruments." As many as 1,500 instruments from around the world are displayed here.
Instruments are not placed into glass cases. Instead, visitors are allowed to walk around the instruments on display.
This unique experience allows museum-goers to check out the details of the instruments, from materials to textures, at any angle.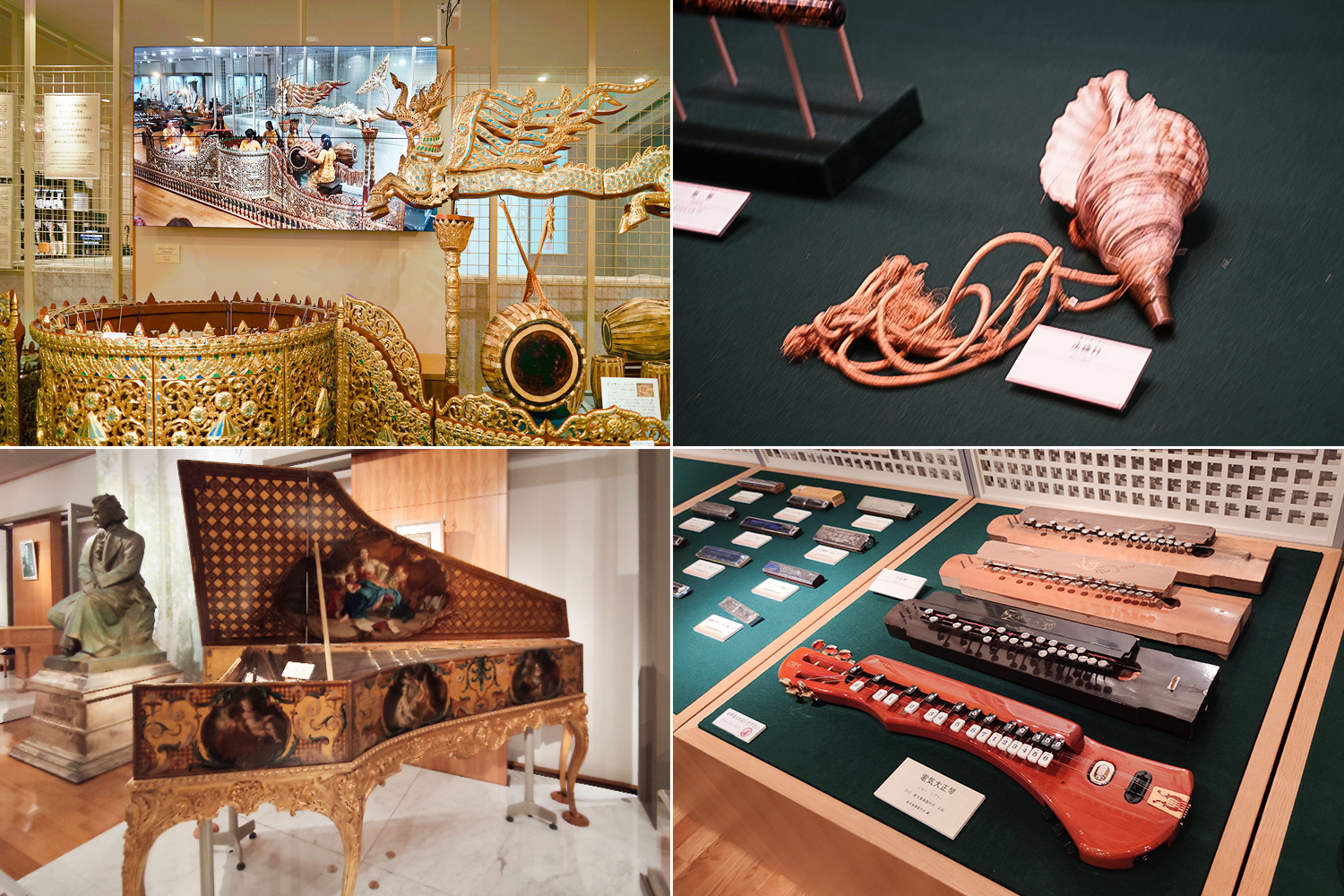 Video installations also help guests understand what people around the world wear as they play their instruments. There's also a corner on B1F where you can touch the instruments and try playing them.
Events, concerts, and special exhibitions are held throughout the year.
Experience Yamaha's History at Yamaha Innovation Road
The next stop is Yamaha Innovation Road, where you can trace the history of Yamaha, a musical instrument manufacturer founded in Hamamatsu.
Take a train along the Enshu Railway from Shin-Hamamatsu Station and exit at Hachiman Station. The travel time is four minutes, and the ride costs 120 yen.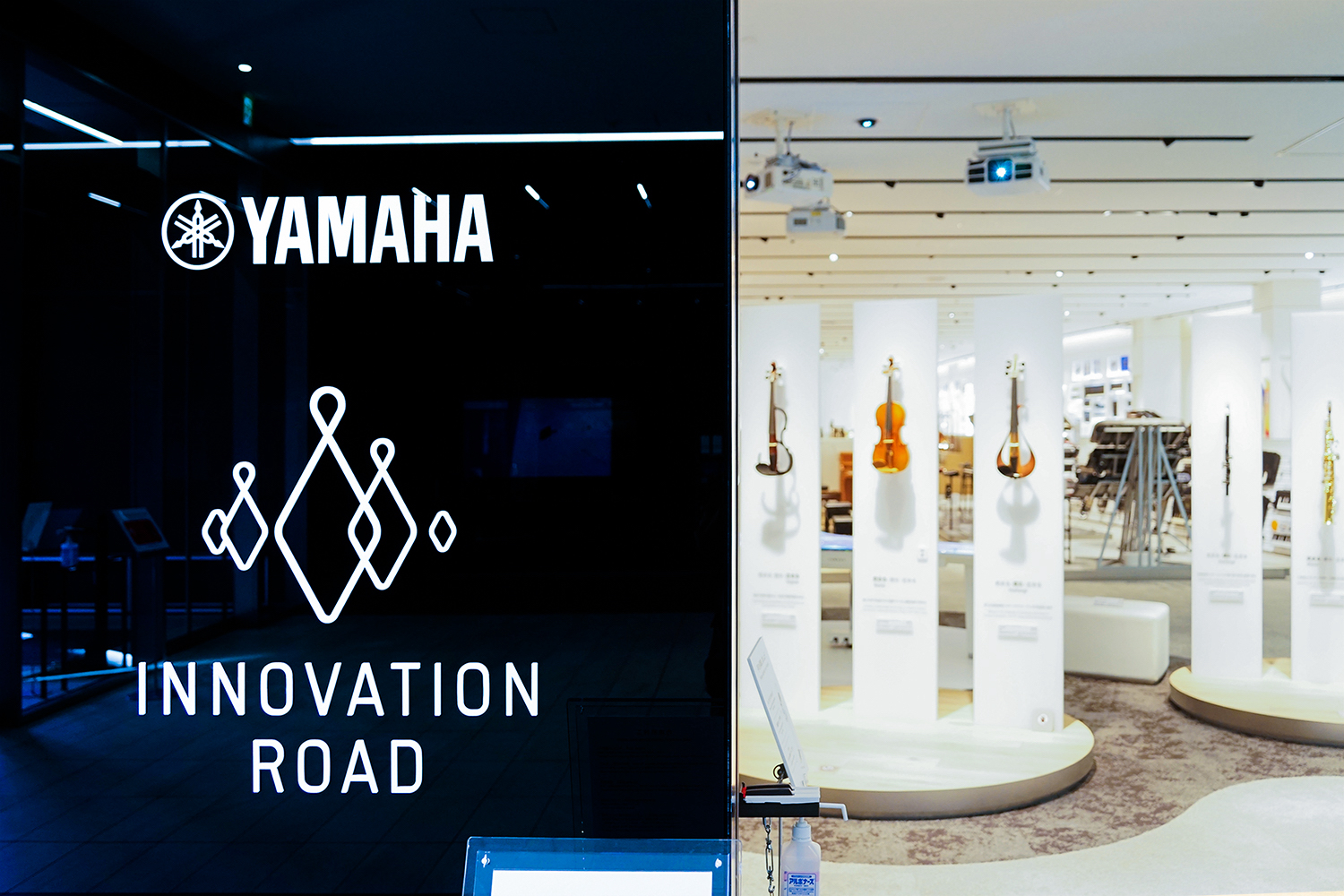 Hamamatsu is known as Japan's city of music. Moreover, it serves as a venue for domestic and international music competitions. It's no surprise that the city is home to numerous concert halls, music studios, and musical instrument retailers.
One of the reasons why Hamamatsu earned this reputation is that it's the birthplace of Yamaha, a world famous musical instrument manufacturer.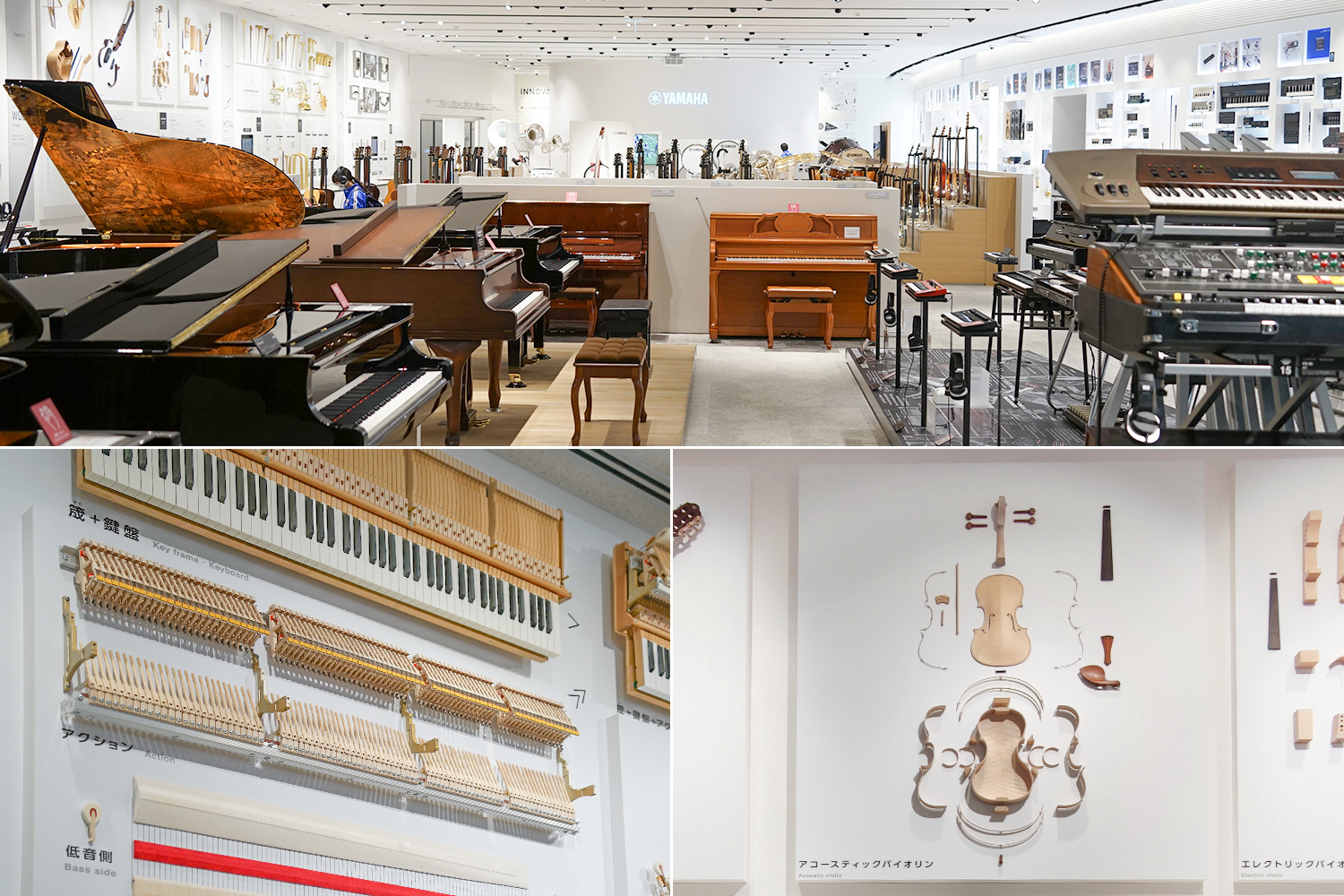 Yamaha Innovation Road is a museum-like facility where visitors can see Yamaha's history of instrument-making and the evolution of acoustic technology. Entry is free, but advance reservations (*) are required.
*For reservation inquiries, please dial this number: 053-460-2010 (English or Japanese)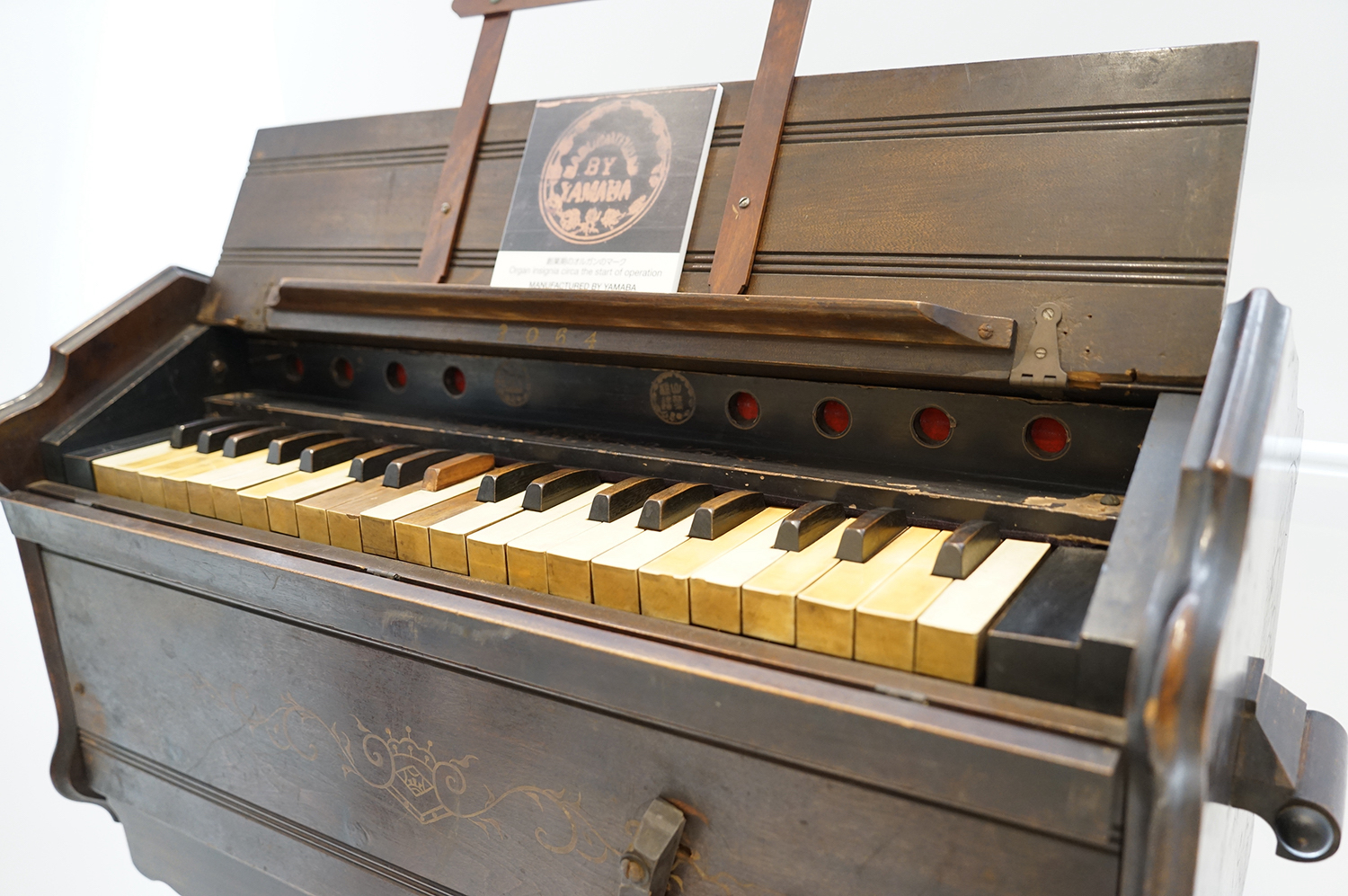 This is the first organ manufactured by Yamaha in 1887, shortly after the company was founded. This also marks the start of production of Western instruments in Japan.
Visitors are allowed to touch and play the instruments marked with an inviting sign that reads "Try playing for yourself." This is the perfect place for lovers of musical instruments.
The museum doesn't only display musical instruments; you'll also find an exhibition on Yamaha's first motorcycle: the YA-1. Experience the allure of musical instruments and motorcycles with your own eyes and ears!
The Nature-Rich Hamamatsu Castle in Downtown
Next, we'll head to a historical spot that is the pride of Hamamatsu. Hamamatsu Castle is about a 20-minute walk from Hamamatsu Station.
If you're taking the bus, get on at the Hamamatsu Station Bus Terminal Platform 1 and exit at City Hall South. The bus ride is about six minutes and costs 120 yen.
Hamamatsu Castle is known as Tokugawa Ieyasu's residence during his younger years. Ieyasu (1543-1616) is a figure who eventually became a shogun (general) after winning many victories in battle.
Following Ieyasau's footsteps, many of the lords who lived in this castle advanced to higher positions in the shogunate. As a result, it was also known as Shusse Castle, or "The Castle of Success."
From the castle's observatory, you can enjoy a full 360-degree view of Hamamatsu. The castle grounds were also developed into Hamamatsu Castle Park. Today, the Japanese garden and large plaza serves as a place of relaxation for locals.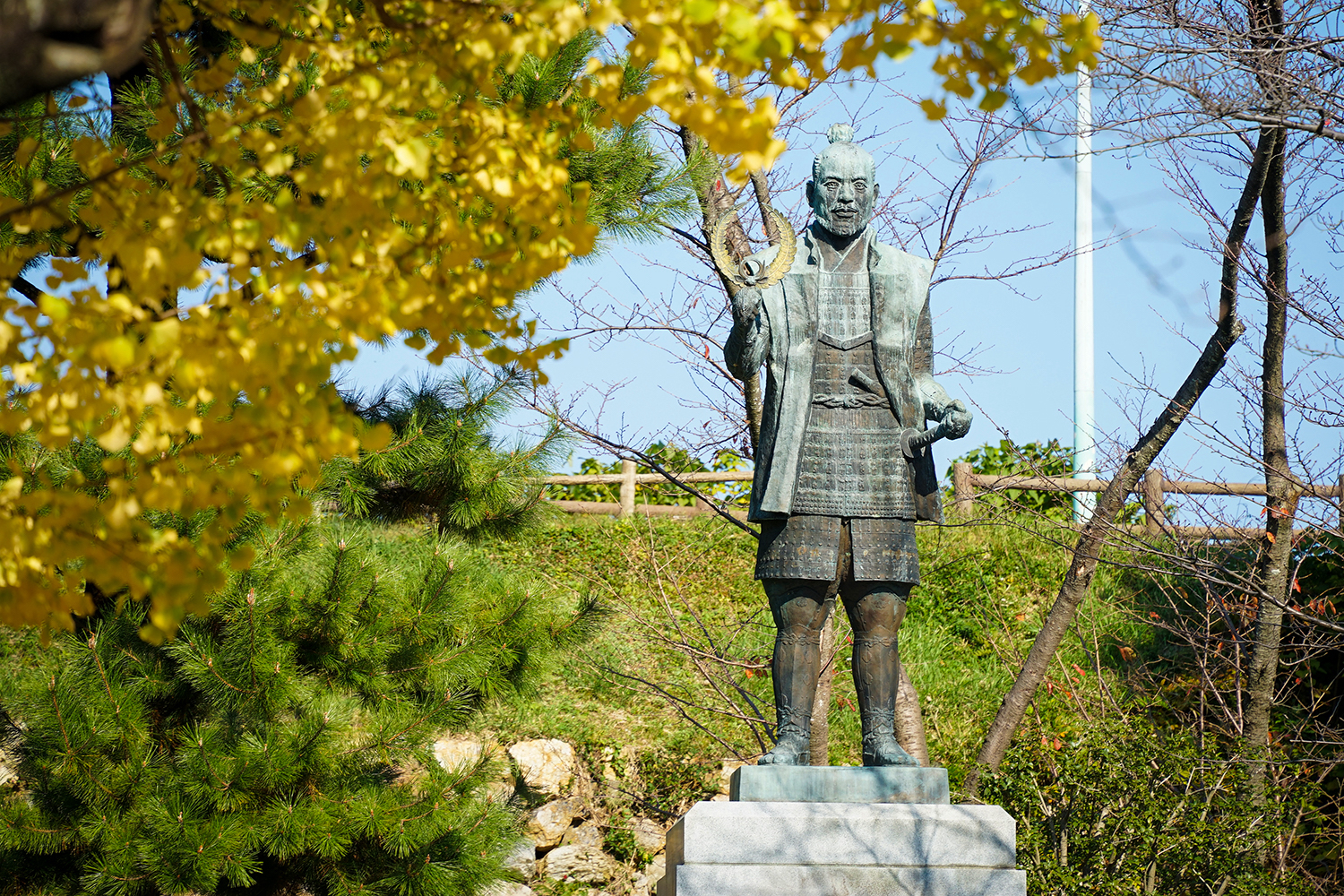 A statue of Ieyasu is erected in front of the castle's gate.
From late March to early April, the park's 300-plus cherry blossom trees are in full bloom.
Sip Matcha Green Tea at Shointei
After a nice stroll, let's take a short break at the teahouse located in a corner of Hamamatsu Castle Park.
Shointei is about a four-minute walk from Hamamatsu Castle.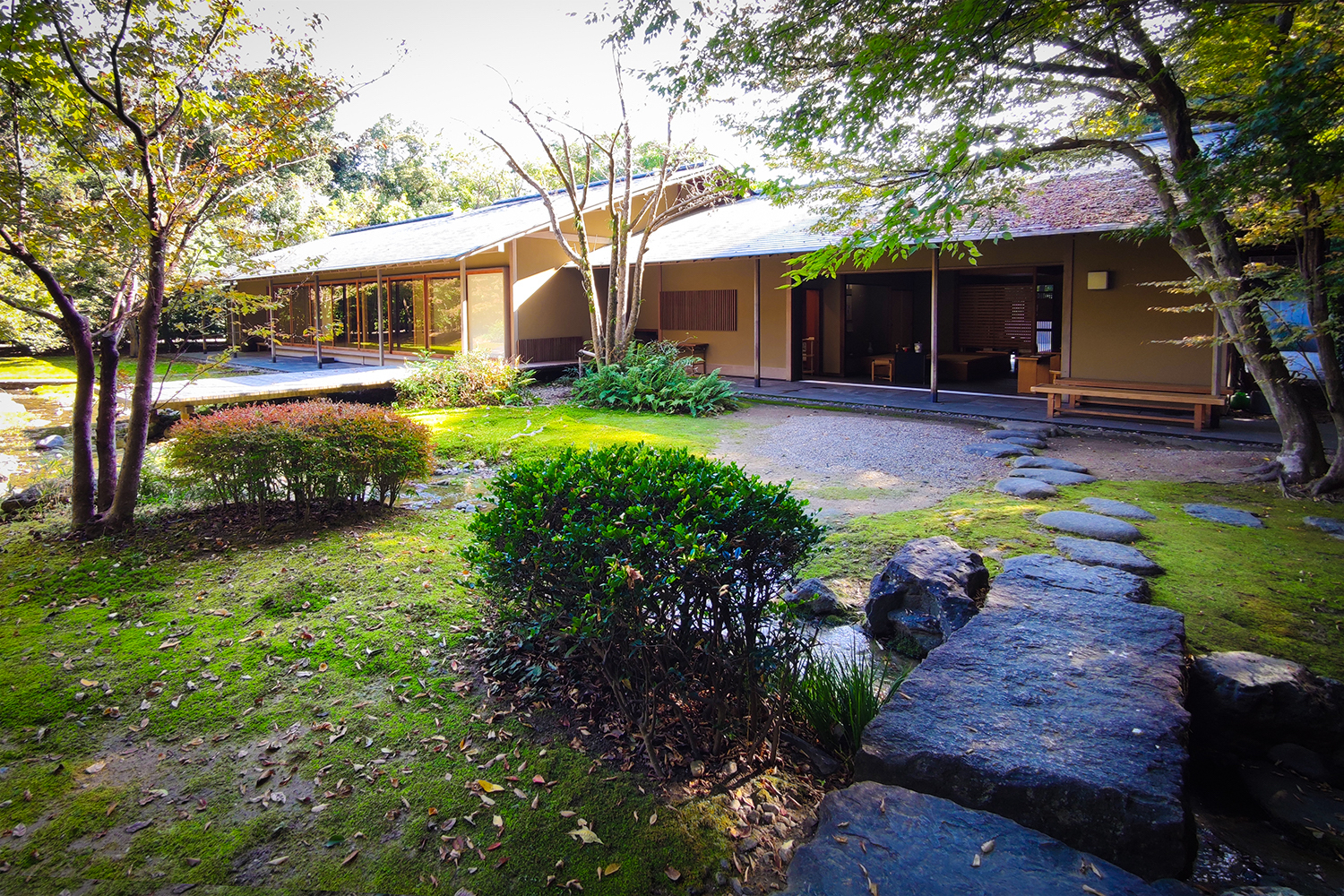 You will sense tranquility when entering the grounds. It's so silent, you'll forget that you're in the middle of a city surrounded by high-rise buildings.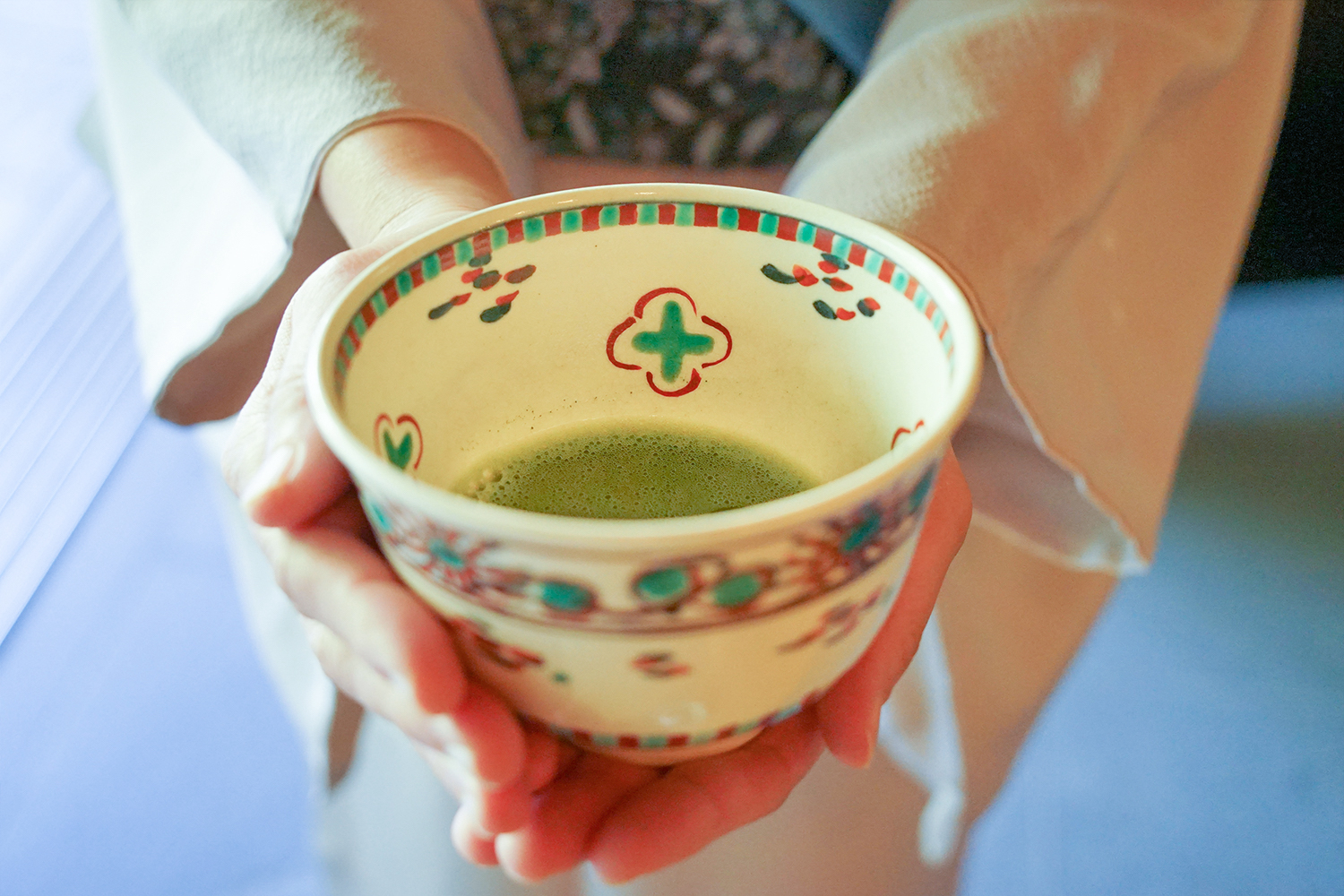 A tea ceremony service called "teicha" is offered daily. While seated in chairs, visitors can observe the ceremonial preparation and casually enjoy a cup of tea.
The tea served will either be matcha or sencha (green tea), depending on the teacher assigned for that day. Tea and wagashi (traditional Japanese sweets) are served as a set for 400 yen. Advance reservation is not required.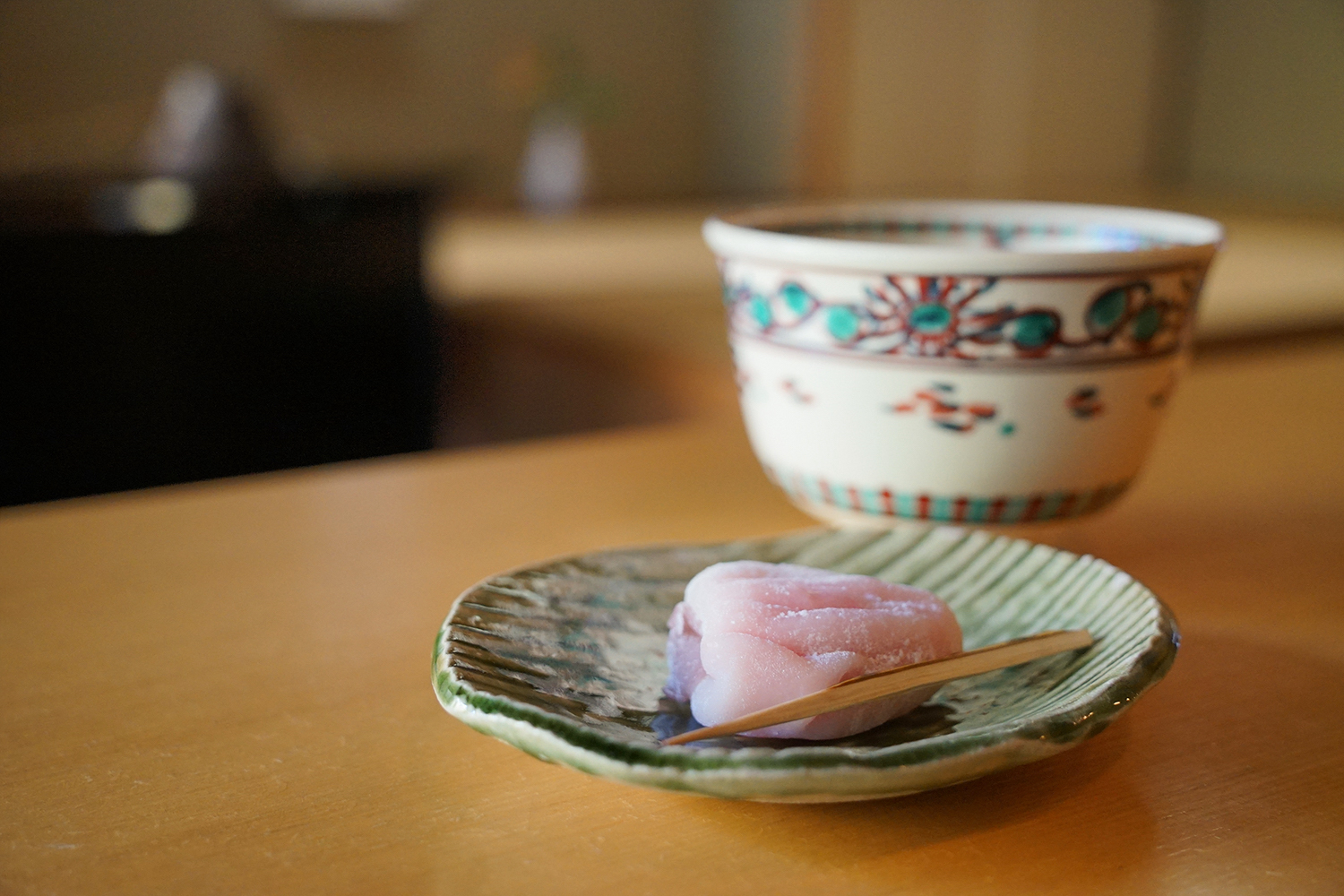 The wagashi that accompanies the tea will be a seasonal treat. For example, the photo above is korogaki, a type of dried persimmon, that was served alongside our tea in autumn.
Feel Like a Pilot at Hamamatsu Air Park
After getting a taste of Japan's history and culture with the castle visit and tea ceremony, head to Air Park JASDF Hamamatsu Air Base Museum. This spot is where you can learn all about Japan's aviation technology.
Take the Route 51 bus from Hamamatsu Station Bus Terminal Platform 14 and disembark at Izumi Yonchome bus stop. It takes about 23 minutes and costs 330 yen. From there, walk for roughly 10 minutes to arrive at the museum.
At the museum, you can tour aircraft actually used by the Japanese Air Self-Defense Force (JASDF). Admission is free.
The three-story museum exhibits materials related to the duties of the JASDF, equipment for the flight crew, and actual aircraft parts. A museum shop is also located inside.
There are 19 airplanes to see, some of which visitors are allowed to sit in the cockpit of! Get a taste of being a pilot in the flight simulator and board the museum's model cockpit.
Elegant Gardens and Autumn Leaves at Ryotanji Temple
Our two-day trip comes to a close at Ryotanji Temple, which has a history spanning 1,000 years. The majestic main hall and beautiful gardens are the highlights here.
Take the Route 44 bus from Hamamatsu Station Bus Terminal Platform 15, then disembark at the Iinoyagu-mae bus stop. It takes about 52 minutes and costs 680 yen. The temple is a three-minute walk from the bus stop.
You can also take the Route 45 bus and alight at the Jinguji bus stop. The temple is a 10 minute walk from this stop. Travel time on the bus will also be 52 minutes and costs 690 yen.
Ryotanji Temple is heavily associated with the Ii family, a lineage of warlords that governed this area. Members of the family also appear prominently in Japanese history.
Walk down the corridor of the main hall and you'll hear a loud squeaking sound. This is an architectural feature called uguisubari, or nightingale flooring, where the floor deliberately makes a noise similar to a nightingale's call. It's meant to alert guards to enemy incursions.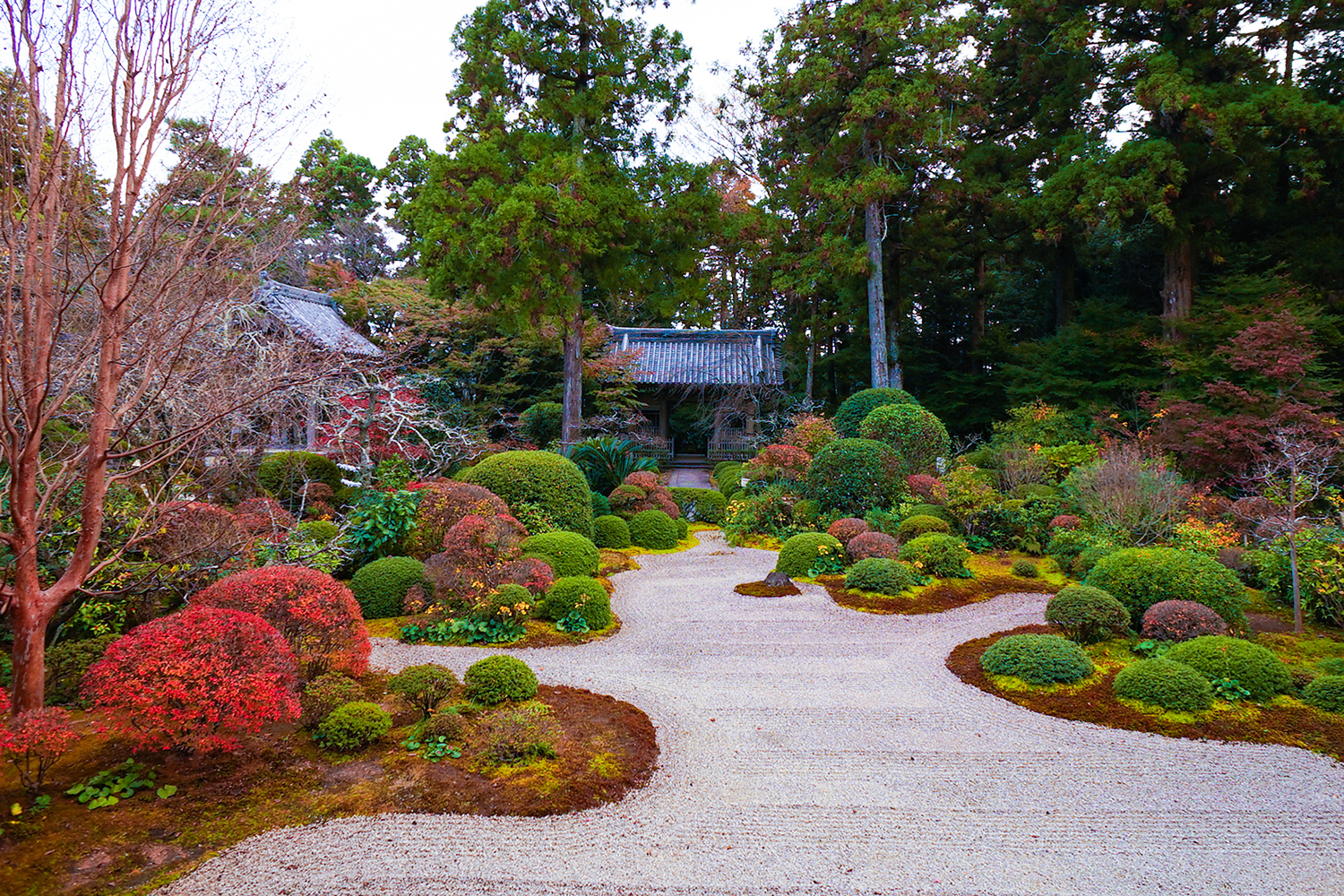 The temple's two gardens are also must-visit spots.
Most Japanese gardens are constructed with either a specific place or landscape in mind. Fudaraku Garden, the rock garden in front of the main hall, is inspired by Lake Hamana.
The temple's other garden was landscaped by Kobori Enshu, a Japanese garden designer who created many excellent gardens across Japan. Cushions are laid out on the main hall's veranda so that visitors can sit and admire the front of the garden.
From late November to early December, the grounds are ablaze with the palette of autumn. The fallen leaves make this garden even more alluring.
Choose Hamamatsu as Your Next Destination!
We've made full use of our two days in Hamamatsu. Now, it's time to head home on the shinkansen from Hamamatsu Station, whether it be Tokyo, Nagoya, or Osaka.
In addition to being easily accessible, Hamamatsu is filled with sightseeing spots that can be enjoyed by all ages. On your next trip to Japan, don't forget to add Hamamatsu to your travel itinerary!