Shizuoka is famous for green tea production, and in Hamamatsu, you can take part in a traditional game of guessing tea called Chakabuki. In this article, we explain how Chakabuki is played and where to enjoy it.
Green tea is Shizuoka's most famous local product. More than just a beverage, tea is deeply rooted in the culture and daily lives of the people living in this region.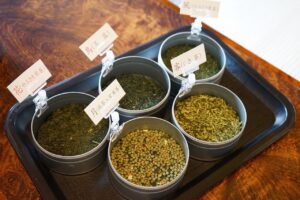 If you visit Hamamatsu, you can experience a traditional game called Chakabuki. Chakabuki is a competition between several participants who have to guess the type of tea they are drinking!
This game started as a form of entertainment at social gatherings of monks, high-ranked warriors, and nobles centuries ago. It is now part of Hamamatsu's cultural heritage.
Read on to learn how Chakabuki is played and where you can experience it in Hamamatsu.
Chakabuki: A Game of Guessing Tea!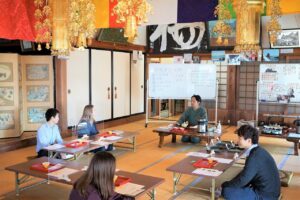 Chakabuki competitions are usually hosted by tea shops that can provide several types of green tea for the game. The venue can be the tea shop itself or a different location. In order for the game to be truly entertaining, a minimum of four or five participants is required.
The host introduces five types of green tea that are marked with five Japanese characters: 花 (Flower), 鳥 (Bird), 風 (Wind), 月 (Moon), and 客 (Guest).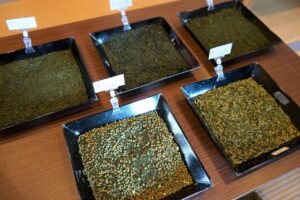 The participants will first smell all the types of green tea in turn and take notes about their distinctive features. Some teas have a deep fragrance while others smell light and refreshing; you'll want to write down all the details you notice.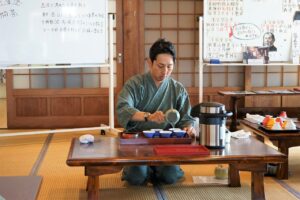 The five types of tea are prepared in random order. As a rule, the same water temperature is used for all the teas to ensure equal conditions. Water temperature has a decisive role in brewing truly delicious tea and, usually, each type of tea requires a different water temperature.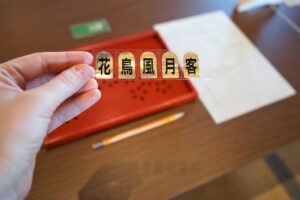 The participants will taste each type of tea and have to guess which tea they've just tasted! They answer by pasting stickers with the kanji character of each tea onto the answer sheet.
At the end, the answers are revealed and the person who has the largest number of correct answers is the winner!
Playing Chakabuki is extremely entertaining. You'll be amazed at all the subtle differences between tea varieties! It's a great opportunity to learn to truly appreciate tea with all your senses.
Where to Experience Chakabuki in Hamamatsu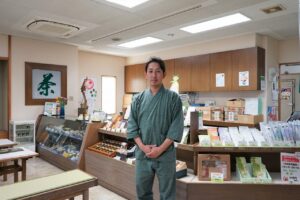 Muramatsu Shoten is a tea shop in Hamamatsu that offers Chakabuki experiences. This tea shop was established in the early 1940s. Mr. Muramatsu is the third-generation shop owner.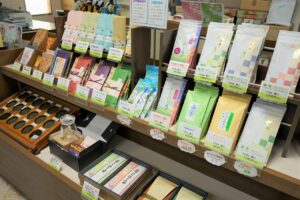 Muramatsu Shoten specializes in sencha green tea. They offer twenty varieties of flavorful sencha tea at their shop. Their product lineup includes refined tea varieties that are ideal as gifts, as well as types that are perfect for daily use. We recommend trying their iconic Suiko variety, a deep steam sencha tea with a pleasant fragrance and deep aroma.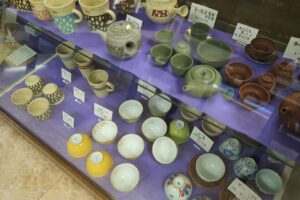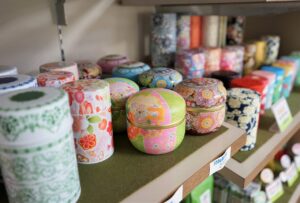 Tea lovers will be delighted by the wide range of tea ware and snacks that they can find at Muramatsu Shoten. The shop has recently launched their original gelato ice cream series, which is available in three tea flavors made at Muramatsu Shoten: the refreshing Saemidori, the mellow and fragrant Beni Fuuki, and Hojicha (roasted tea).
Muramatsu Shoten owns tea fields in several locations in Shizuoka. Some of their tea fields are located right in front of the shop! You can take a close-up look at the rows of tea plants and learn details about tea cultivation.
If you wish to take part in a Chakabuki experience at Muramatsu Shoten, please make a reservation in advance by phone or online. The participation fee for one person is 1,500 yen when the game is held at Muramatsu Shoten, and 2,000 yen when it is held at a different location.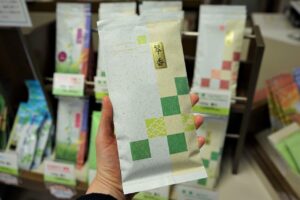 The best part about visiting the shop is the fact that you can actually buy excellent tea on the spot!
Chakabuki Experience in Kanzanji Onsen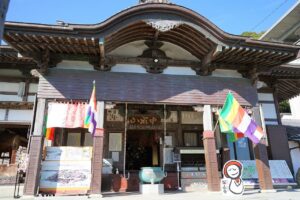 We took part in a Chakabuki session held at Kanzanji Temple, a landmark of Hamamatsu's Kanzanji Onsen area. Kanzanji Temple was founded in 810 AD by the famous Buddhist priest Kukai.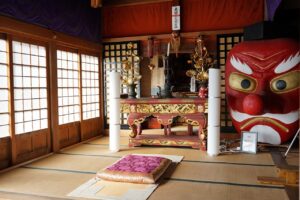 Around the beginning of the twentieth century, it became a Soto Zen temple. Kanzanji plays a central role in the community of Kanzanji Onsen and it often hosts cultural events. Visit for Zazen meditation or a shakyo (sutra copying) experience, and you get to see the beautiful interior of the main hall. One corner of the hall enshrines a Tengu, a mythical creature that is believed to offer protection from fire disasters.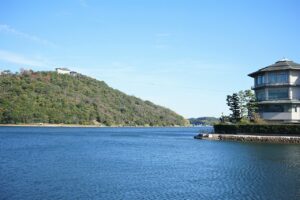 The surroundings of Kanzanji Temple are impressive and definitely worth exploring by foot. Lake Hamana spreads out right in front of the temple. The Kanzanji Ropeway connects the local onsen resort to an island in Lake Hamana that offers splendid panoramic views.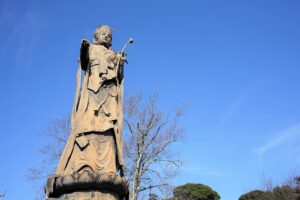 Right behind Kanzanji Temple, there are hiking trails offering access to the Great Kannon, a large statue of the Buddhist deity of mercy, to a small temple hidden in a cave, which is said to have been a place for ascetic practices in the past, and to observatories offering great views of Lake Hamana and the surrounding area.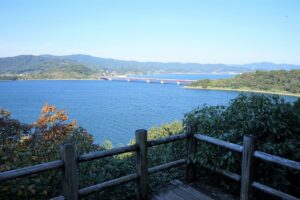 When visiting Hamamatsu, do take a trip to Kanzanji Onsen and stop by Kanzanji Temple, a major local landmark.