Lake Hamana is a popular landmark in Hamamatsu, Shizuoka Prefecture. In fact, it spans across Hamamatsu and the neighboring city of Kosai. With a circumference of 114 kilometers, this brackish lake is the tenth-largest in Japan.
Kanzanji Area: Three Ways to Enjoy the Beauty of Lake Hamana
Visit the Kanzanji area for the best experience at Lake Hamana.
Easily accessible by bus from Hamamatsu Station, Kanzanji is packed with different attractions. You'll find Kanzanji Temple, various shops and restaurants, hot spring facilities open for daytime admission, Hamanako Garden Park, Hamamatsu Flower Park, as well as an amusement park.
In addition to these locations, visitors can board a cruise ship, ride a cable car, and go cycling!
Cruise Through the Lake's Alluring Beauty
Taking the Hamanako Cruise is a great way to enjoy the beauty of Lake Hamana!
The Seto Route sails between the shores of Kanzanji and Mikkabi. Each day, there are three round trips that are 30-minutes each way (1,000 yen; *unlimited round trips cost 1,800 yen). The Kanzanji Route starts from either Kanzanji Port or Flower Park Port, and sails around the lake. It also makes three daily trips that take 30 minutes per way (1,000 yen) (*The schedule varies seasonally).
The Kanzanji area has two ports for the cruise: Kanzanji Port, located in the Kanzanji hot spring village, and Flower Park Port near Hamamatsu Flower Park and Hama Zoo.
Marvel at the blue waters of the lake, the stunning mountains, and the cable cars traveling overhead. On a clear day, the lake's surface will glisten under the sun's rays. Make your way to the upper deck to feel the breeze and fill your lungs with fresh air!
Between November and March, seagulls pay a visit to the cruise ship. Watching seagulls flying up close is another attraction popular with visitors.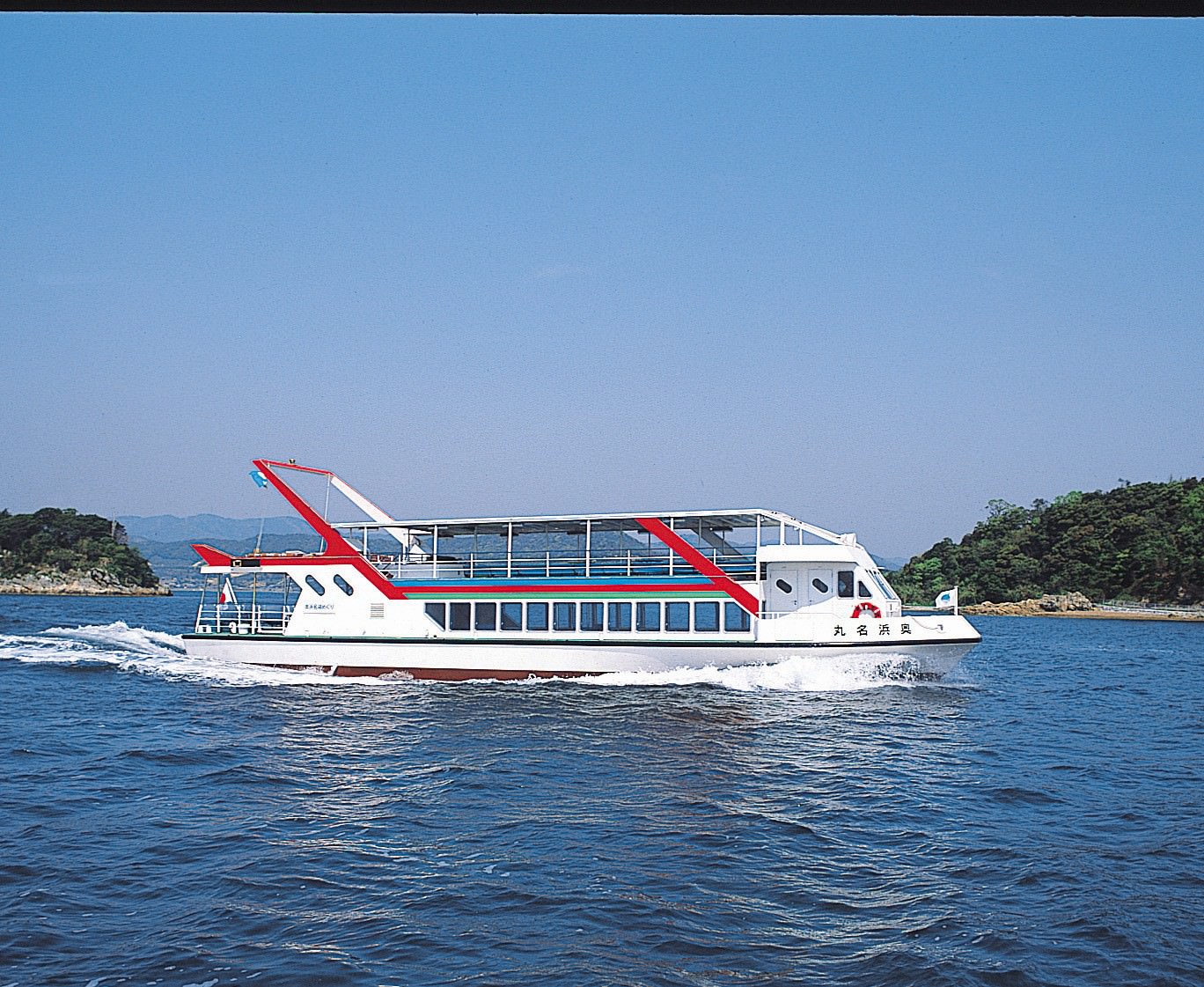 Hamanako Cruise
We recommend the Hamanako Cruise for visitors looking to enjoy leisure time and Lake Hamanako's nature. The cruises range from 30 minutes to unlimited rides.
Kanzanji Ropeway: Admire the Scenery From Above!
Kanzanji Ropeway is the only cable car in Japan that travels over a lake.
As it makes its way across, you can admire a sprawling view of the lake and the surrounding mountains through the cable car's large windows.
An observatory is located atop Mount Okusa. There, you can enjoy a 360-degree view of the area. On sunny days, you can even see Mt. Fuji! Near Okusayama Station is the Hamanako Orgel Museum, as well as several gift shops.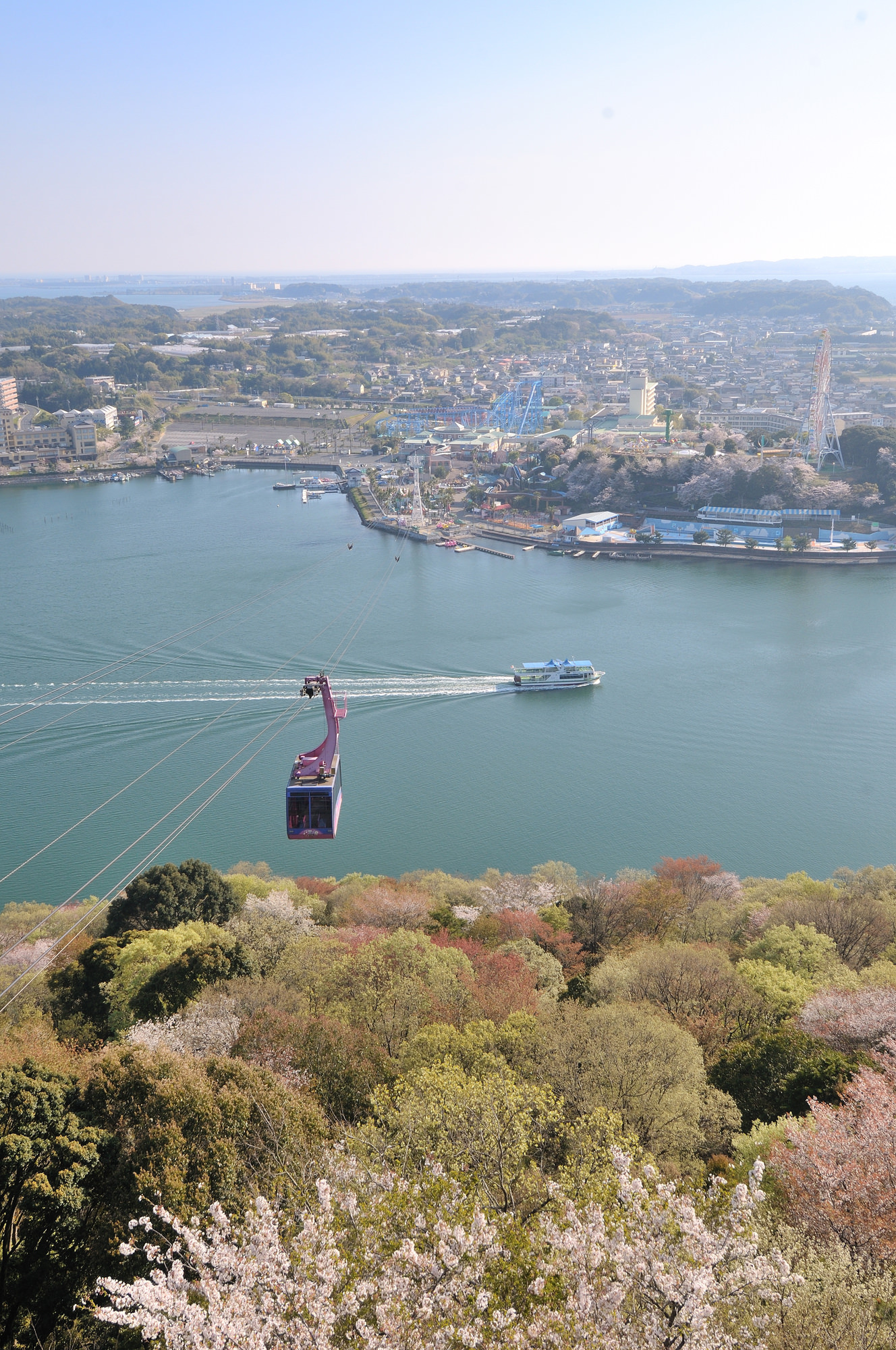 Kanzanji Ropeway
Kanzanji Ropeway is the only cable car in Japan that travels over a lake. It connects Hamanako Palpal amusement park with the Mt. Okusa Observation Deck and the Hamanako Orgel (music box) Museum. From high above, passengers get a 360-degree view of Lake Hamanako and the surrounding scenery down below.
Bike Along the Shores of Lake Hamana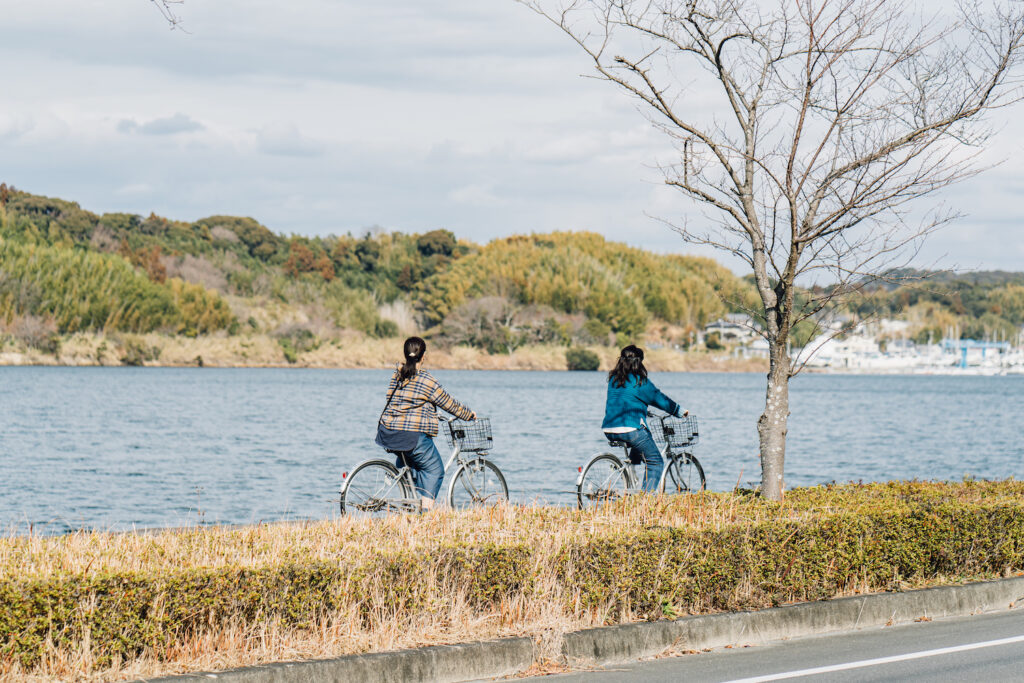 The mild climate and lush greenery make Lake Hamana a popular cycling area. The site is dotted with bike rental shops and even features a cycling route around the lake's perimeter.
Yurin Kanzanji Terminal, a bike rental shop, is only a two-minute walk from the Wellseason Hamanako bus stop. Rent a bike and enjoy the clean air and calm scenery around Lake Hamana!
You can stop to admire seasonal nature at various points along the route. These include cherry blossoms in spring, greenery in the summer, and vibrant foliage in autumn. A bike ride along the pristine waters and seasonal scenery is sure to be refreshing.
Take Advantage of Bicycle Pits
Lake Hamana has various pit stops called Bicycle Pits. You can park your bike to rest or borrow tools, including a tire pump, to maintain your bike.
Bicycle Pits are located throughout the route, ensuring that visitors have a safe and relaxing bike ride.
Kushitani Cafe Kanzanji: Taste Great Coffee and Order an Original Hotdog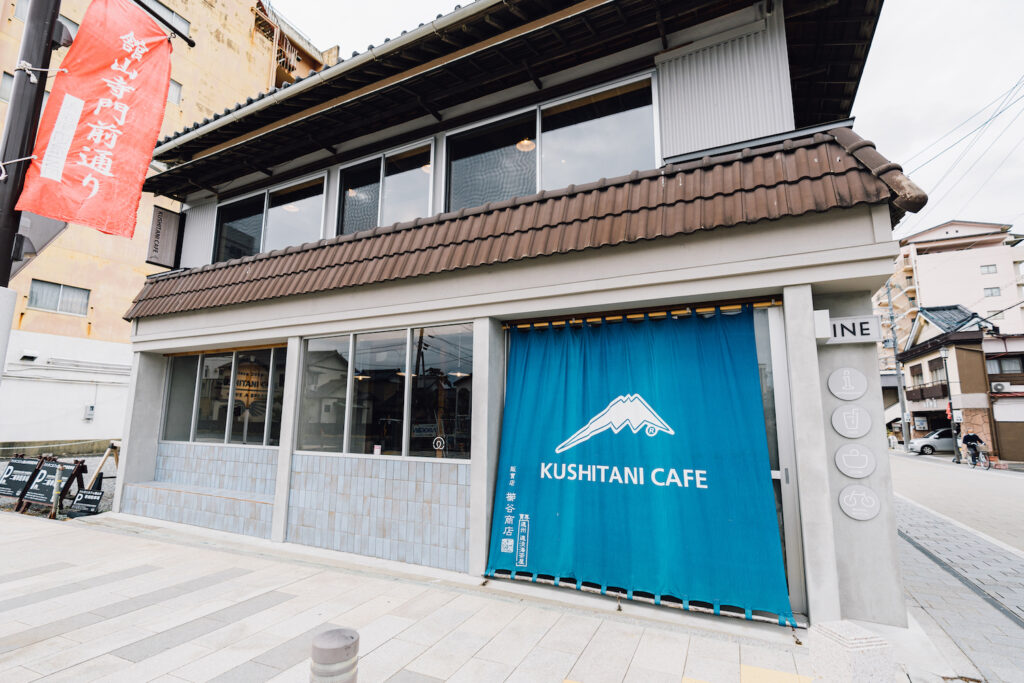 A cafe run by Kushitani, a local bicycle brand, is located near the Kanzanji hot spring village. It's known for its delicious hotdogs and coffee.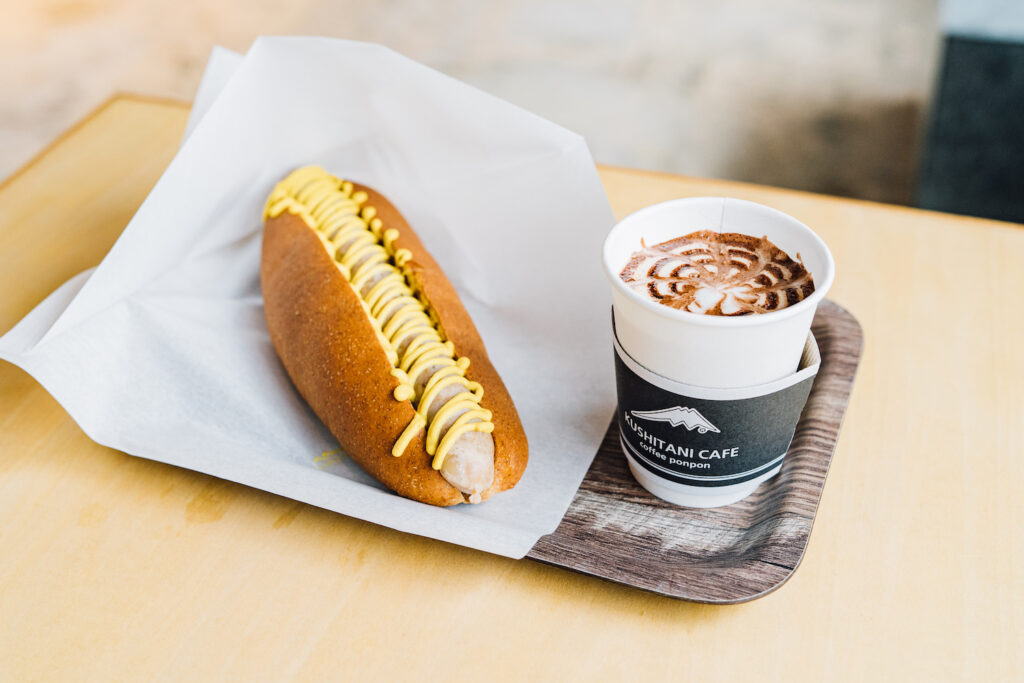 Kushitani Cafe Kanzanji orders coffee beans from Ponpon, a local coffee roaster. The shop buys and roasts coffee beans from around the world.
The regular coffee (350 yen after tax) isn't too bitter and has a refreshing aftertaste. The creamy cafe latte (420 yen after tax) and cafe mocha (450 yen after tax) are also great choices.
Their original hotdog was developed with the help of a French chef. The bun comes with a sausage that's 23 centimeters long! You can also order smoothies, tea, and soup with your meal.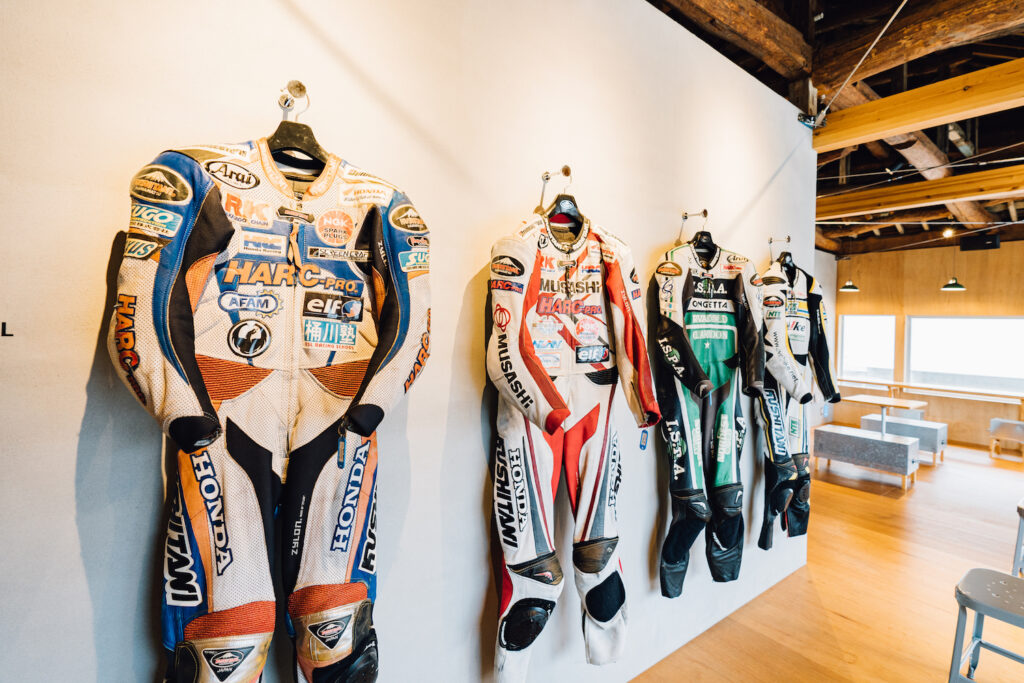 Stop by during your bike ride to meet other cyclists who frequent the cafe. The delicious food and coffee are sure to recharge your body and spirit.
Kushitani Cafe Kanzanji
2251-3 Kanzanji-cho, Nishi-ku, Hamamatsu-shi, Shizuoka-ken
Shibuki Bridge: A Photogenic Sunset Viewpoint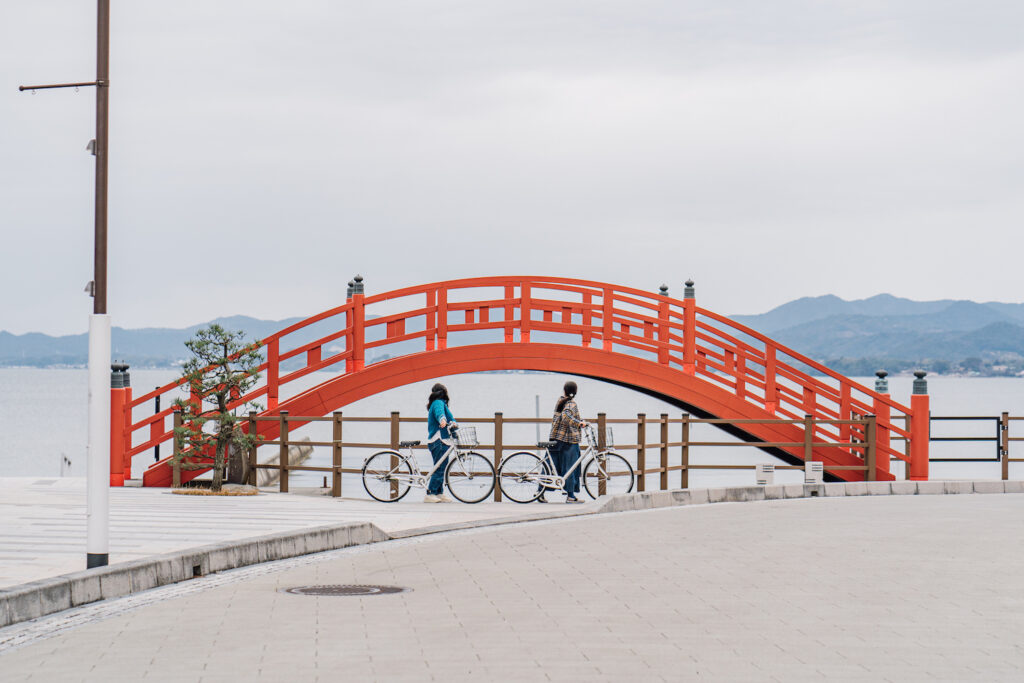 Shibuki Bridge is an adorable red arch located near Hamanako Engine, a shopping facility. Enjoy the expansive view of Lake Hamana from atop the bridge. The bridge against the backdrop of nature makes this place a popular photo spot.
Shibuki Bridge is also famous for its sunset views. The lake creates a stunning scene by reflecting the glow of sunset. Next to the bridge is Kanzanji Sun Beach. You'll spot many people swimming and playing water sports in the summer.
Shibuki Bridge
Lake Hamana, Nishi-ku, Hamamatsu-shi, Shizuoka-ken
From boarding a cruise or cable car to cycling, you can explore Lake Hamana in many unique ways. Savor local food and marvel at the beautiful scenery found only at this one-of-a-kind destination!